The Tacky Lights Christmas Tour, in pictures:
Deacons sponsor
Tacky Lights Christmas Tour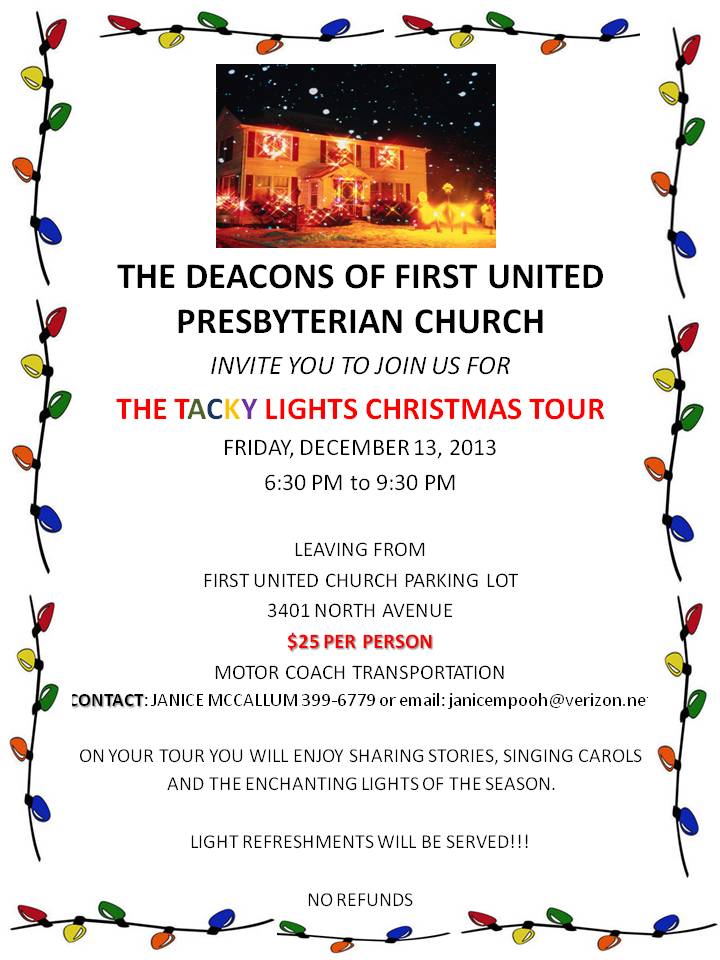 121st Church Anniversary
"Connected With the Church"

This first Sunday in April 2011 marked the celebration of our 121st Church Anniversary. The Reverend Janice Brown-Corbett, Associate Pastor of Mount Olive Baptist Church in Glen Allen, delivered a sermon entitled "There's strength in unity". Reverend Brown-Corbett reminded us that the body has many members and that every body in its rightful place benefits the kingdom of God. Further, we were reminded that we are "designer originals", fearfully and wonderfully made. After worship service, the Deacon Board prepared a delicious reception for all to fellowship and enjoy. Here are a few photos of the day!

There are no pictures to show here! You can create collections of your images by clicking on the Media Tab, then "Manage." Within your Media Manager, click "+Collection" to create a new Collection.
On Sunday, April 5, 2009 First United celebrated 119 years of service unto our Lord and Savior, Jesus Christ. The speaker for the morning, the Reverend Joseph Young, expounded upon the anniversary theme "The Keys to a New Beginning". Congregants were urged to look for ways to be a blessing using the blessings God has bestowed upon us...to use our new Educational and Outreach building to further our mission of filling the Great Commission. After service, everyone enjoyed a light reception sponsored by the Deacon Board.