DID YOU KNOW?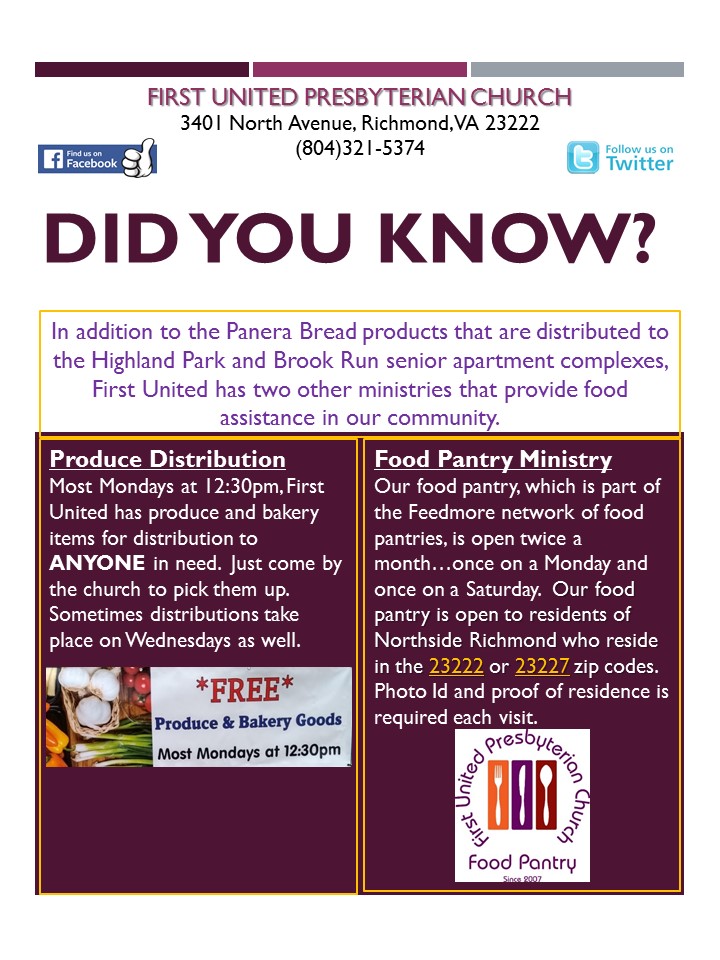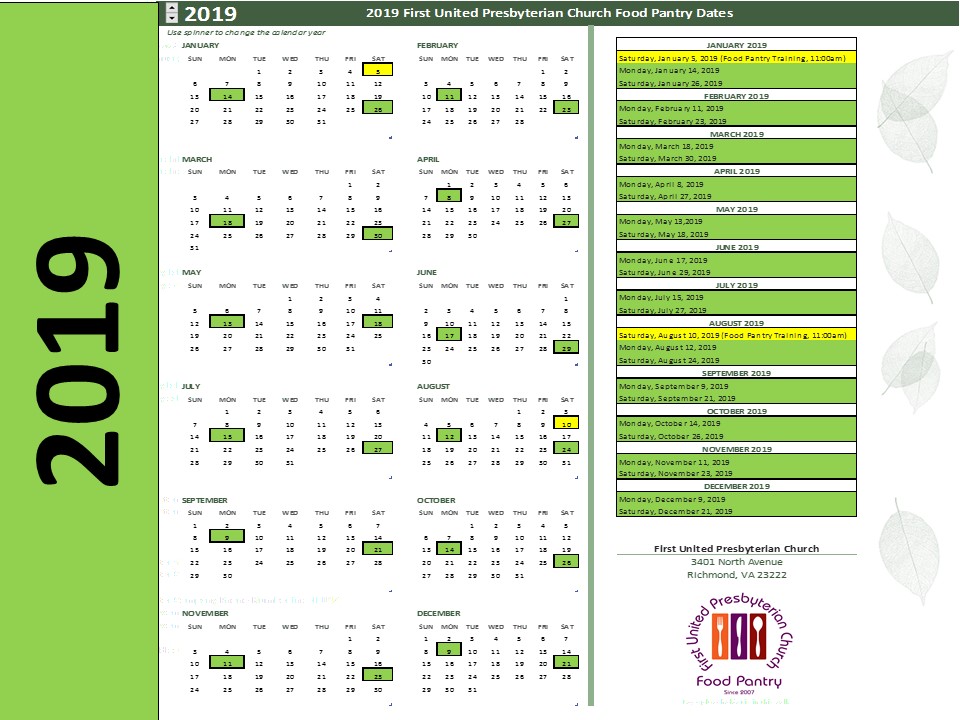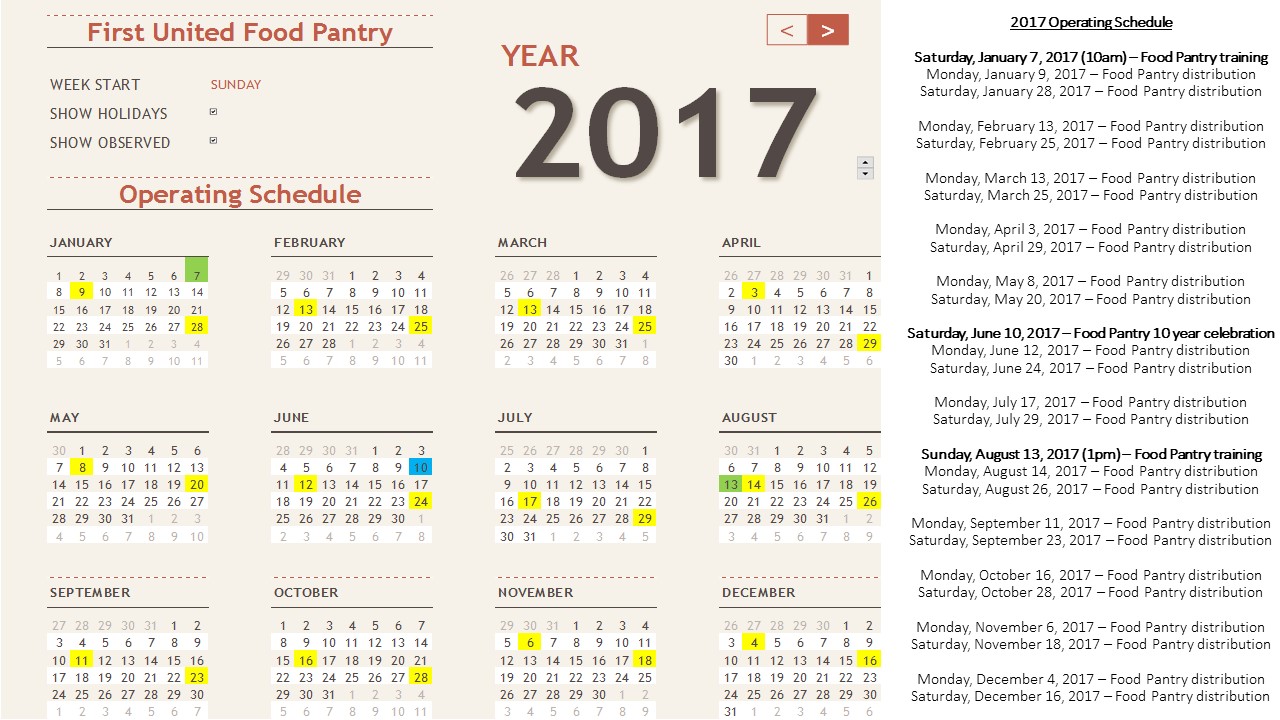 Food Pantry ministry about to enter its 8th year
The 2014 Food Pantry Calendar
dates have been set!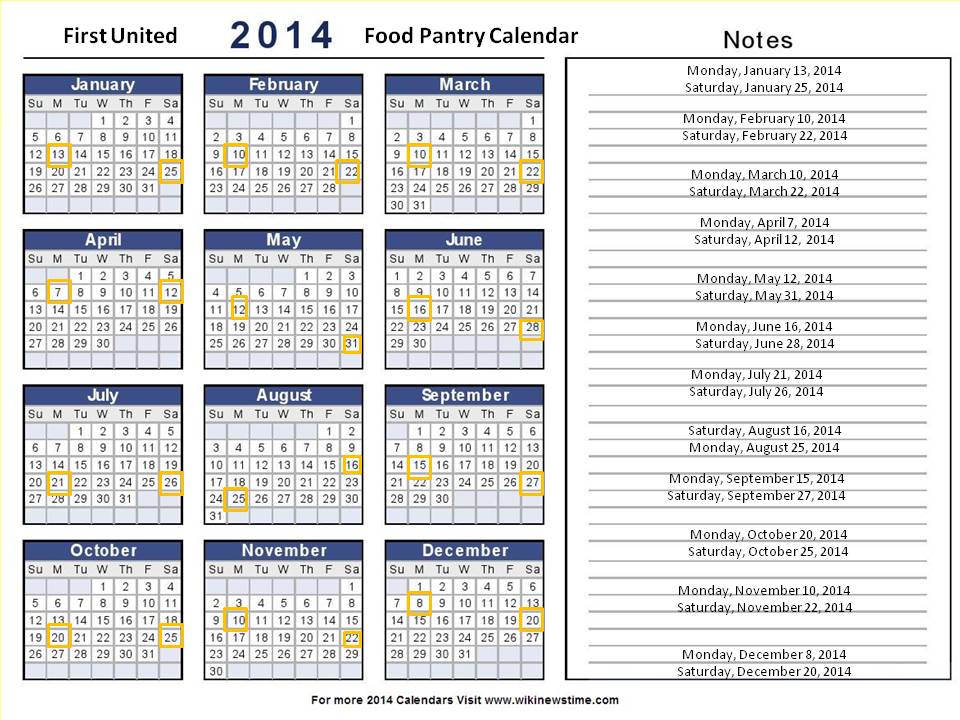 The 2013 Food Pantry Calendar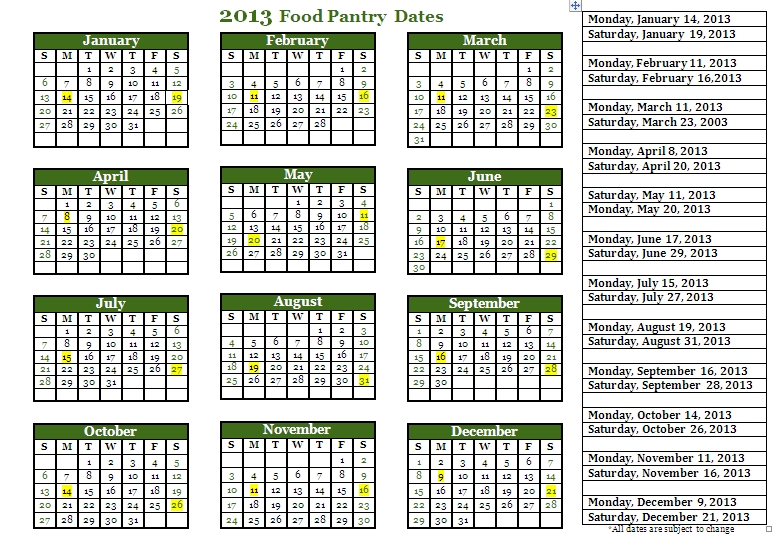 May 2012 Food Pantry Dates
The food pantry dates in the month of May are as follows:
Saturday clients.........May 12, 2012
Monday clients..........May 14, 2012
These dates are different from our normal operating schedule due to scheduling conflicts. Returning clients have been given written notice of the date change. As always, photo ID and proof of North Richmond residency required.
Celebrating 5 years of service to North Richmond

On Saturday, September 10, 2011, the First United Presbyterian Church Food Pantry celebrated 5 years of providing food assistance for hunger vulnerable residents on the North side of Richmond.

We were simply delighted to have Congressman Bobby Scott in attendance, along with representatives from the Mayor's office, Church Women United, the City of Richmond Fire Department and Presbyterian Women of the James.
Many thanks to the Food Pantry committee and the hard working food pantry volunteers who make the impossible happen for so many people who are in need.
There are no pictures to show here! You can create collections of your images by clicking on the Media Tab, then "Manage." Within your Media Manager, click "+Collection" to create a new Collection.
Celebration of Service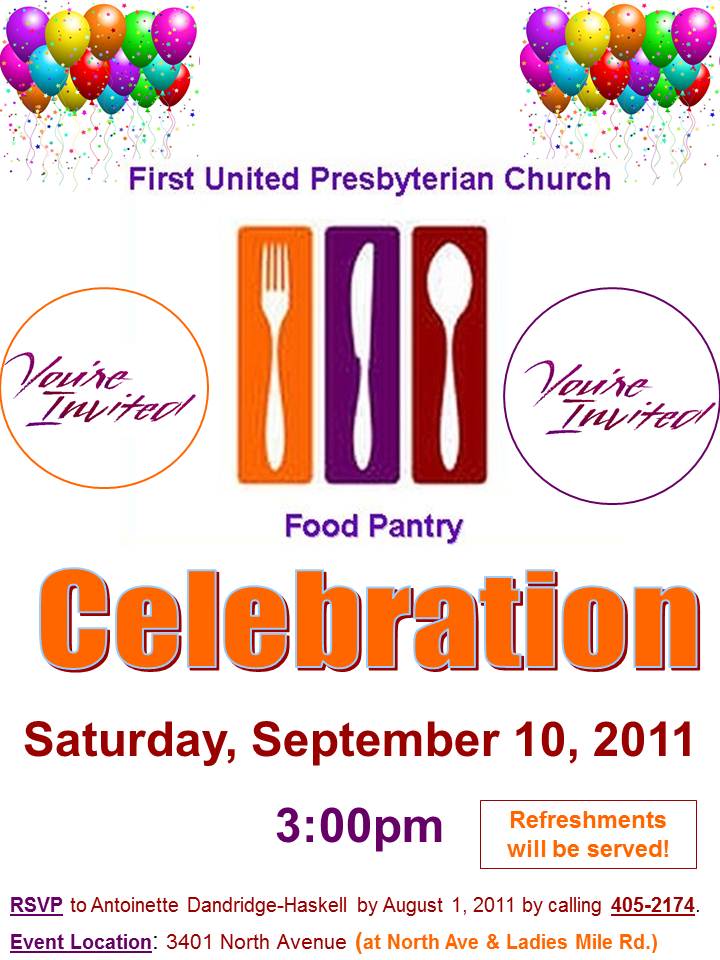 On Saturday, September 10, 2011, the First United Presbyterian Church food pantry will celebrate its 5th year of provide food for the hungry on the North side of Richmond. It will be an opportunity to meet food pantry recipients, volunteers, benefactors, local and state leaders and a lot more! Come join us for the fellowship of food, fun and celebration!

-------------------------------------------------------------------------------------------

Filling A Natural Need In A Spiritual Way
As the calendar flips to the month of June 2010, First United starts its 4th year of serving the community through its food pantry. The First United food pantry began in June 2007 and through the blessings and favor of God Almighty, we have labored on to provide food for the hungry citizens of North Richmond. The food pantry is open twice a month, the 3rd Monday and the 4th Saturday. On average, we serve 25 elderly persons, 35 children and 51 adults per month.
Proverbs 22:9
A generous man will himself be blessed, for he shares his food with the poor.
The First United Presbyterian Church food pantry is staffed exclusively with volunteers and is funded through the generosity of the members and friends of First United.
The food pantry is open on the 4th Saturday and the 3rd Monday of each month from 9:00am – 12 noon . The First United food pantry is the primary food assistance provider for the Brookland Park Plaza Senior Center for older adults. In providing assistance to those in need we thought of "What Would Jesus Do" and "What Would We Want To Receive", thusly, we provide bags of food containing meat, produce, canned goods, dairy products and other dietary staples.
Our mission is to share the love of Jesus Christ by providing natural and spiritual food to those who hunger. We pray that the Lord will continue to bless this outreach ministry through the benevolence of His people throughout region!
First United Presbyterian Church is located at 3401 North Avenue , Richmond , Virginia 23222 .
Donations of any amount are graciously accepted!

*Valid Photo ID required