Sunday School Christmas Breakfast


First United held its annual Christmas breakfast on Sunday, December 22, 2019. There was food, fun, games and a visit from the jolly old elf himself! A wonderful time of fellowship to celebrate the year of accomplishments in our Sunday School classes (held Sundays starting a 9:45am). Many thanks to the Presbyterian Men for providing a hearty breakfast!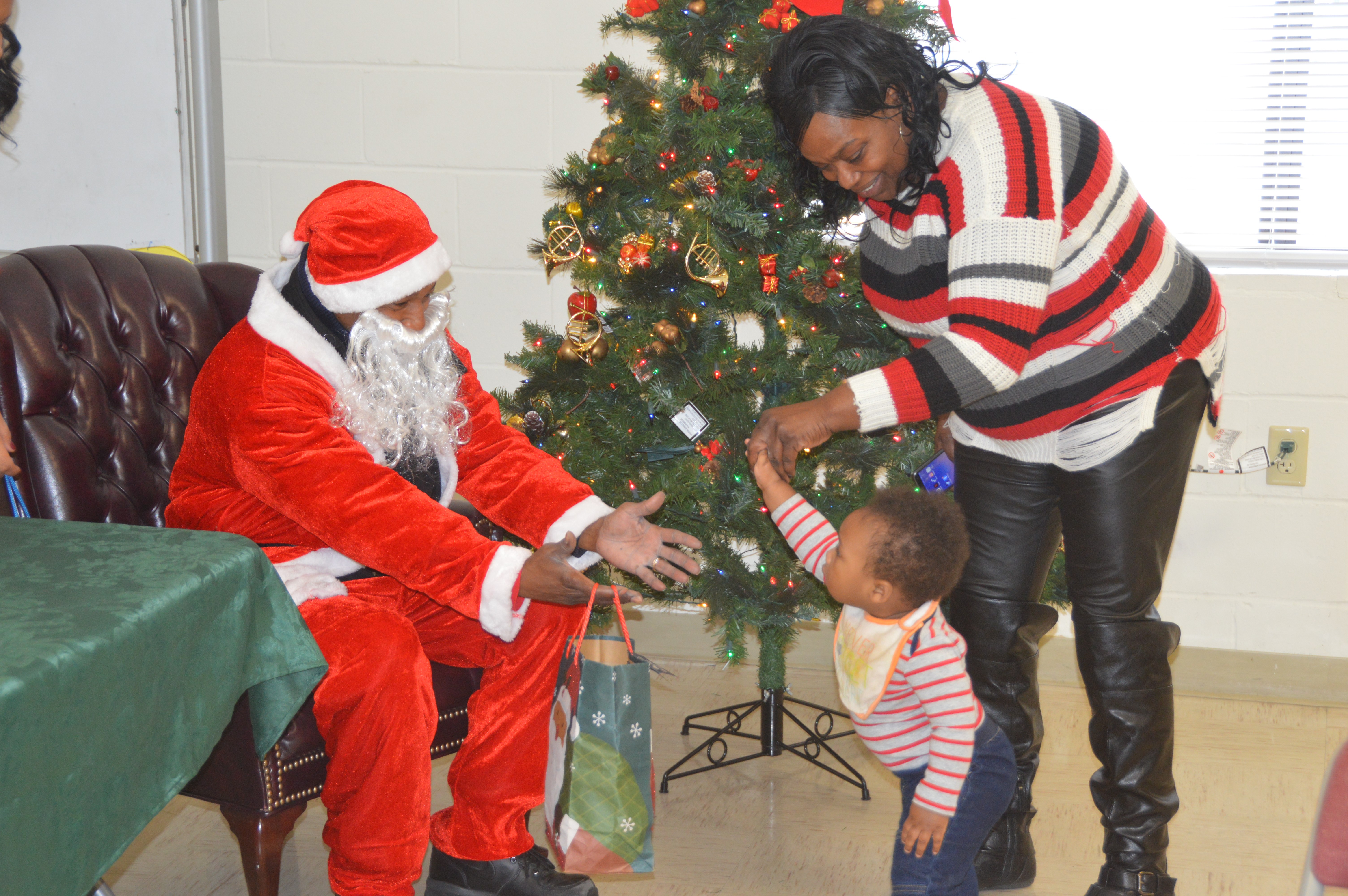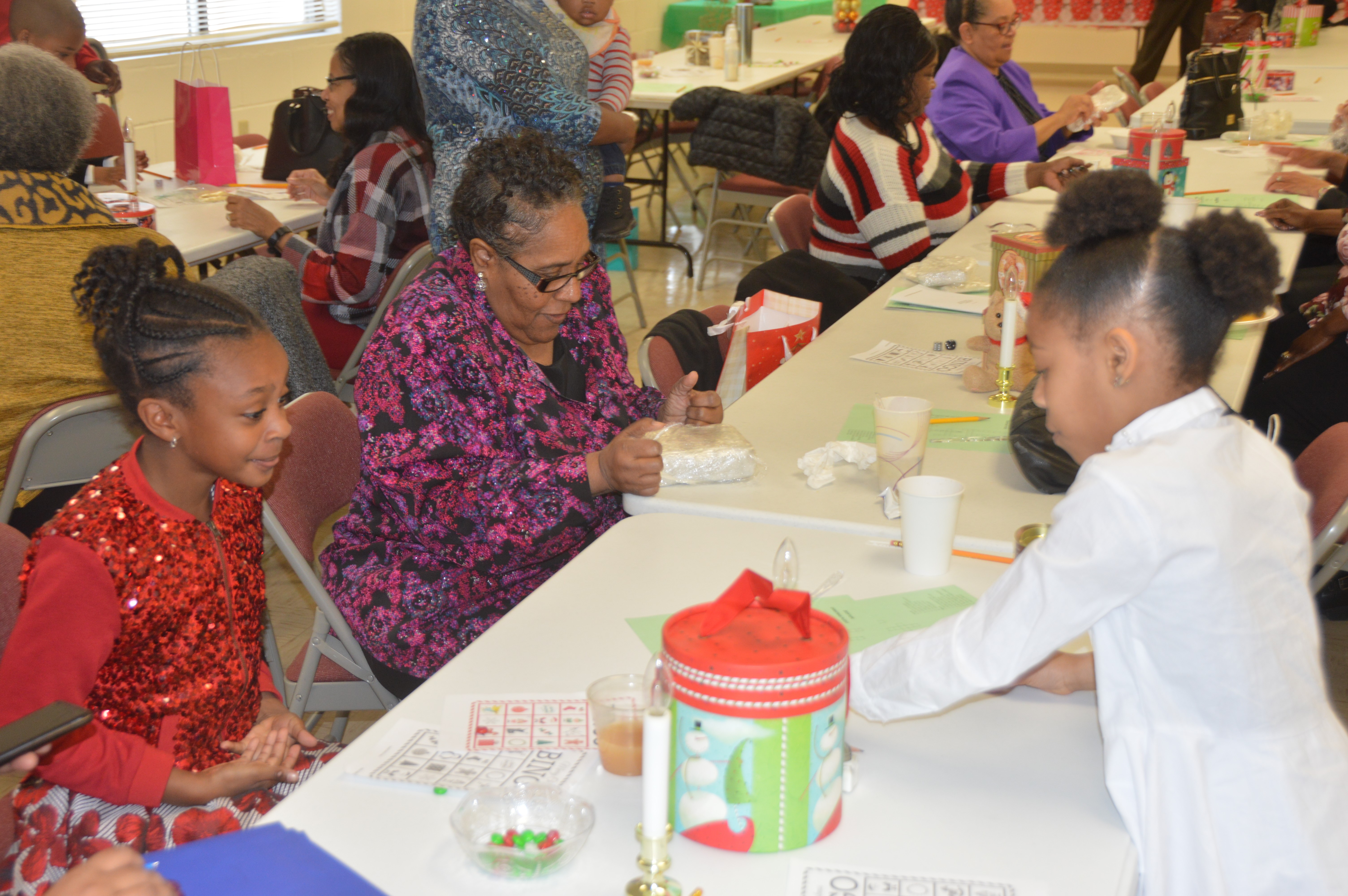 Homecoming is on the horizon!
First United will celebrate Homecoming on Sunday, October 6, 2019 during our 11am morning worship service. The speaker for the morning will be Pastor Emeritus, Rev. Dr. Willie Woodson.
There are a couple of events leading up to Homecoming:
On Saturday, September 28th there will be a PRAYER BRUNCH at 11:30am.
On Saturday, October 5th from 2pm - 6pm there will be GAME DAY. Several board games and other games will be available to play or bring your own game. Come join in the food, fun and fellowship!

---------------------------------

Women's Day 2019
Women's Day will be celebrated on Sunday, May 19th during morning worship service.

Community Thanksgiving Meal to be served at FIrst United on Thanksgiving Day!
Join us for a day of food, football and thankfulness as we prepare and serve Thanksgiving dinner in the North Richmond community. The Thanksgiving dinner will begin at 1:30pm and include the traditional Thanksgiving trimmings. TV's will be on handy so those football fans can watch the game as the meal takes place.
Thanksgiving Day: 1:30pm to 3:30pm
This event is free and open to the community.
Vacation Bible School starts July 24th
6:30pm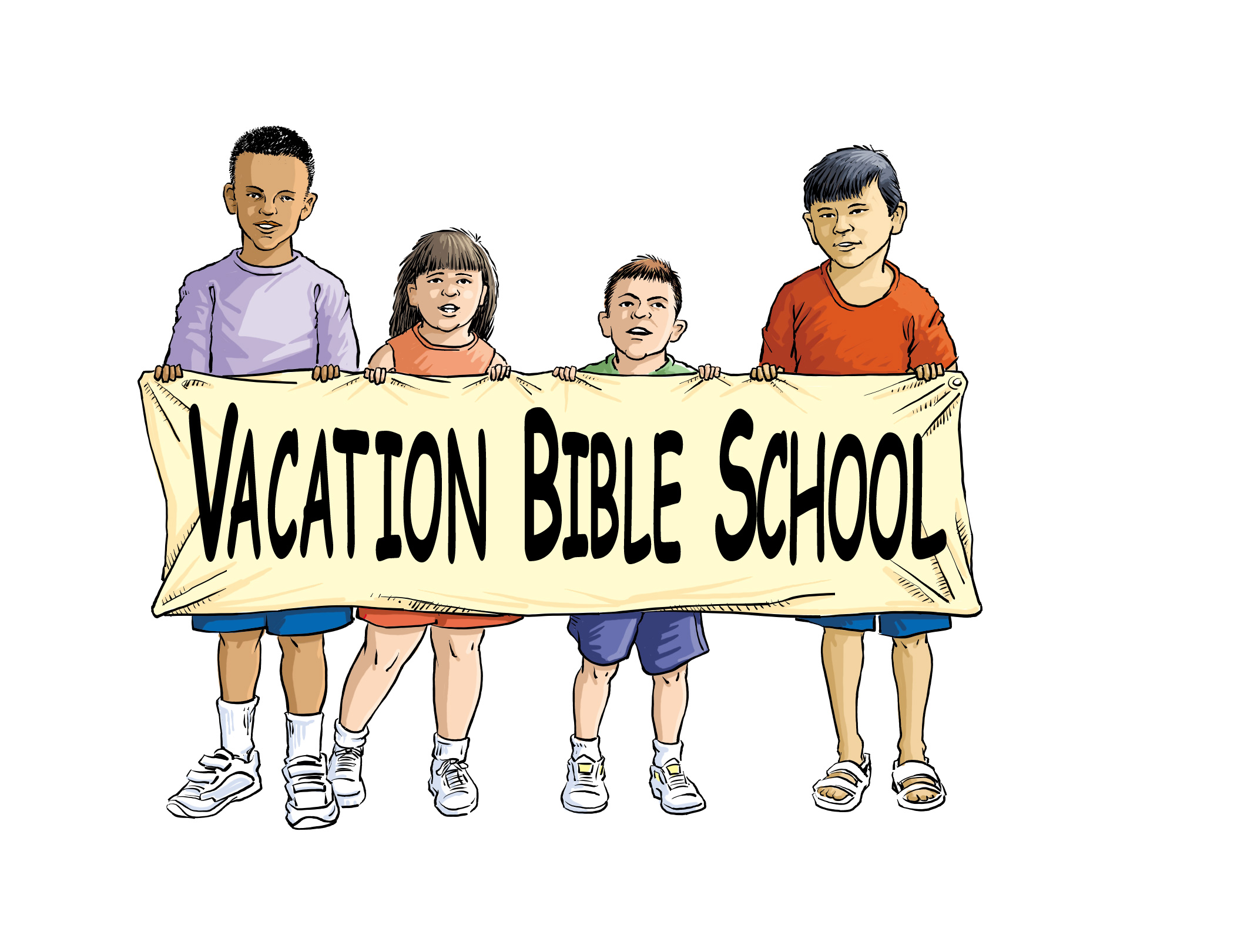 Men's Day 2018 is Sunday, June 17, 2018
Fish Fry Fridays in June beginning June 8th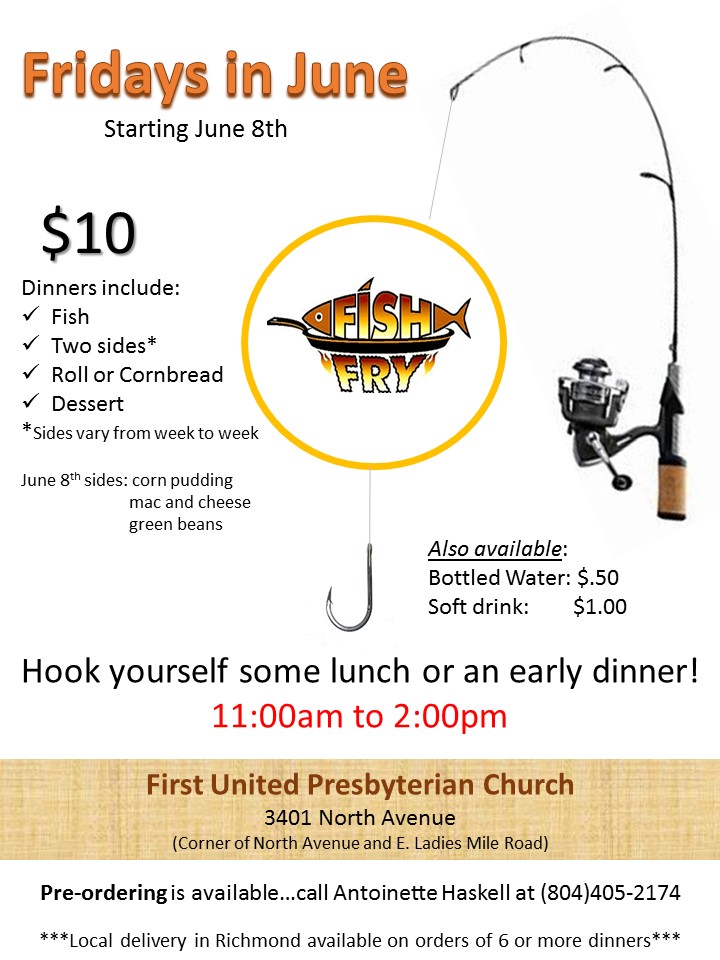 A Blessed Resurrection Sunday at First United
April 1, 2018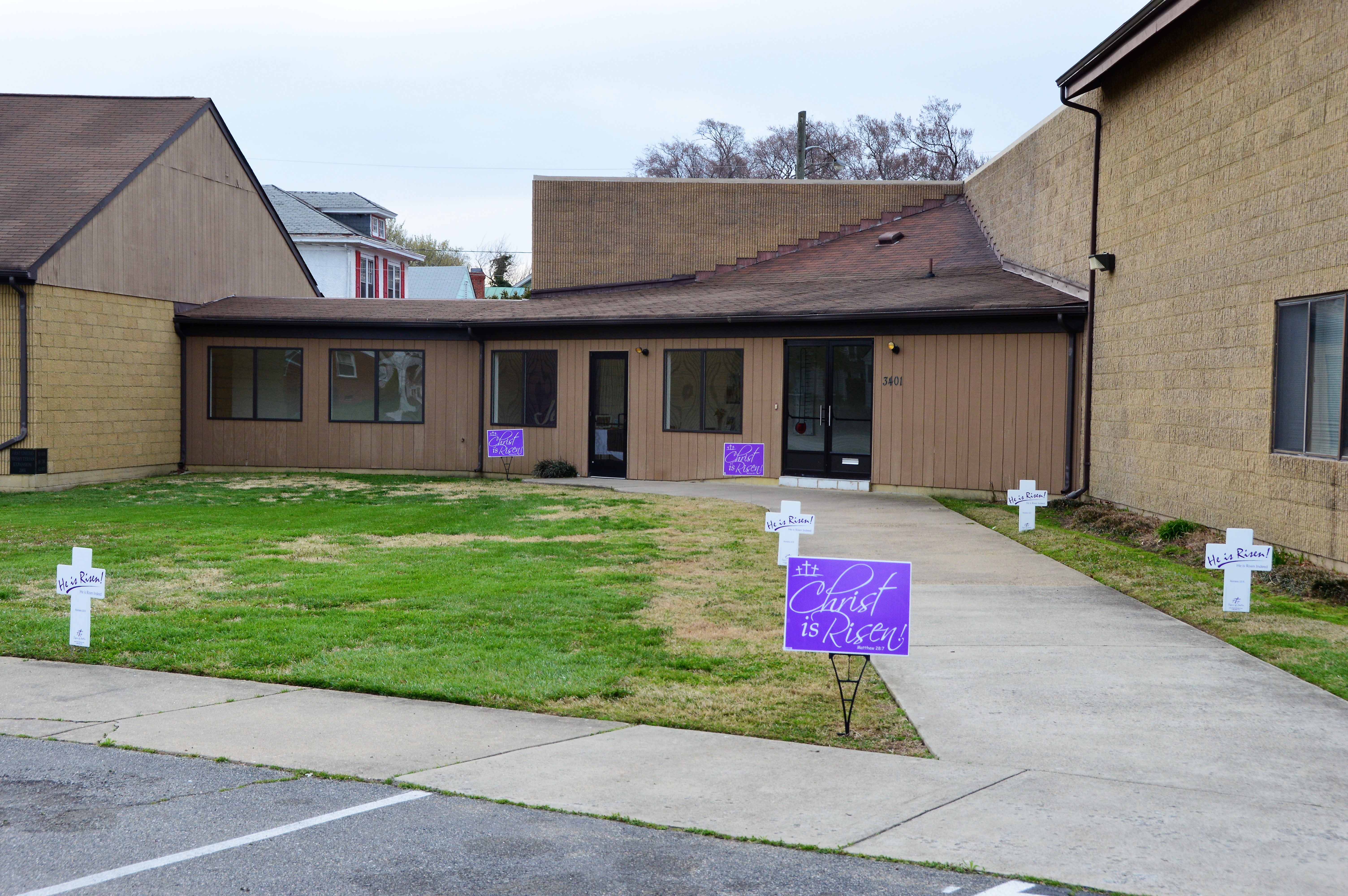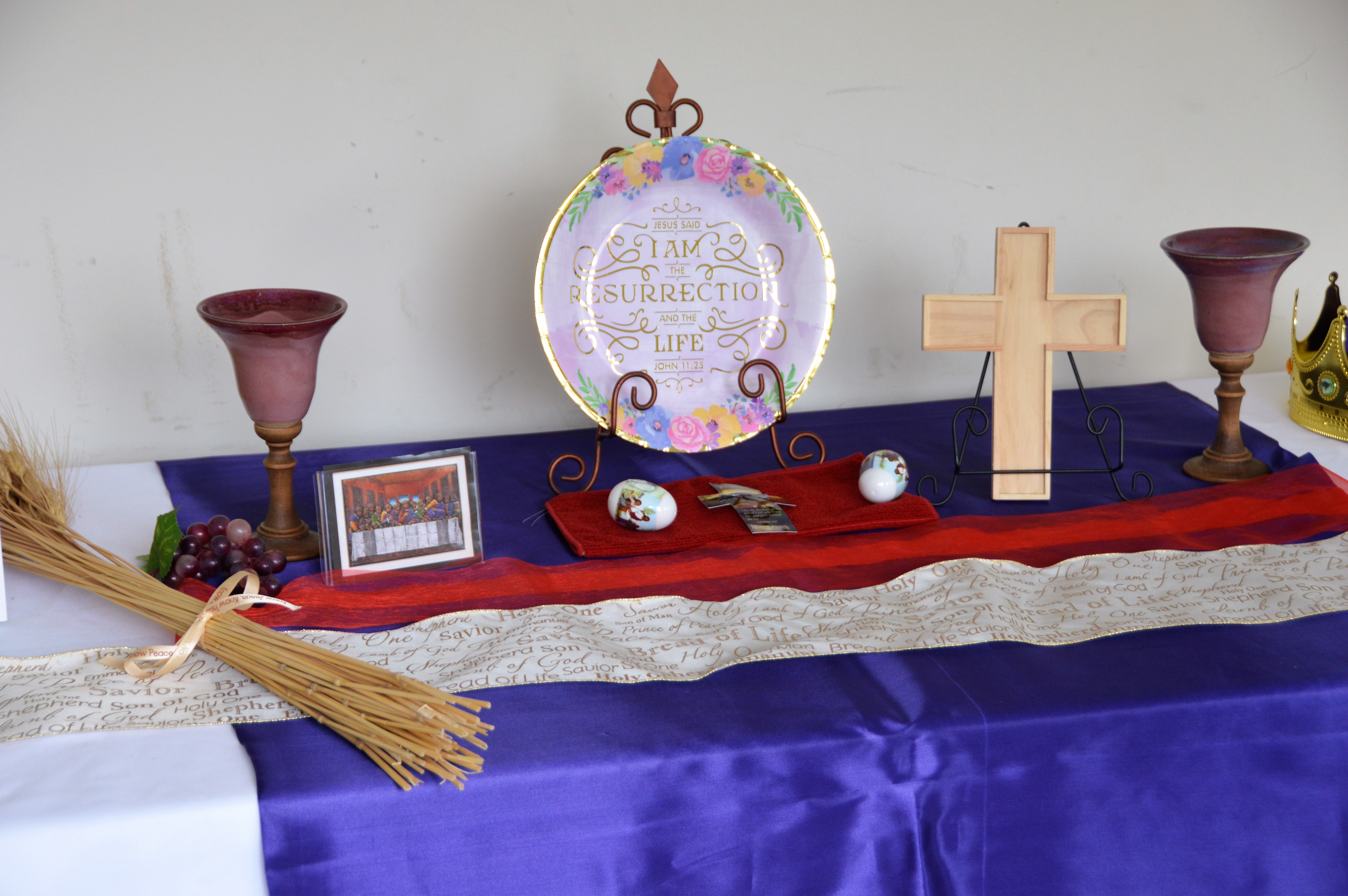 Soul Food Sunday
Sunday, February 25, 2018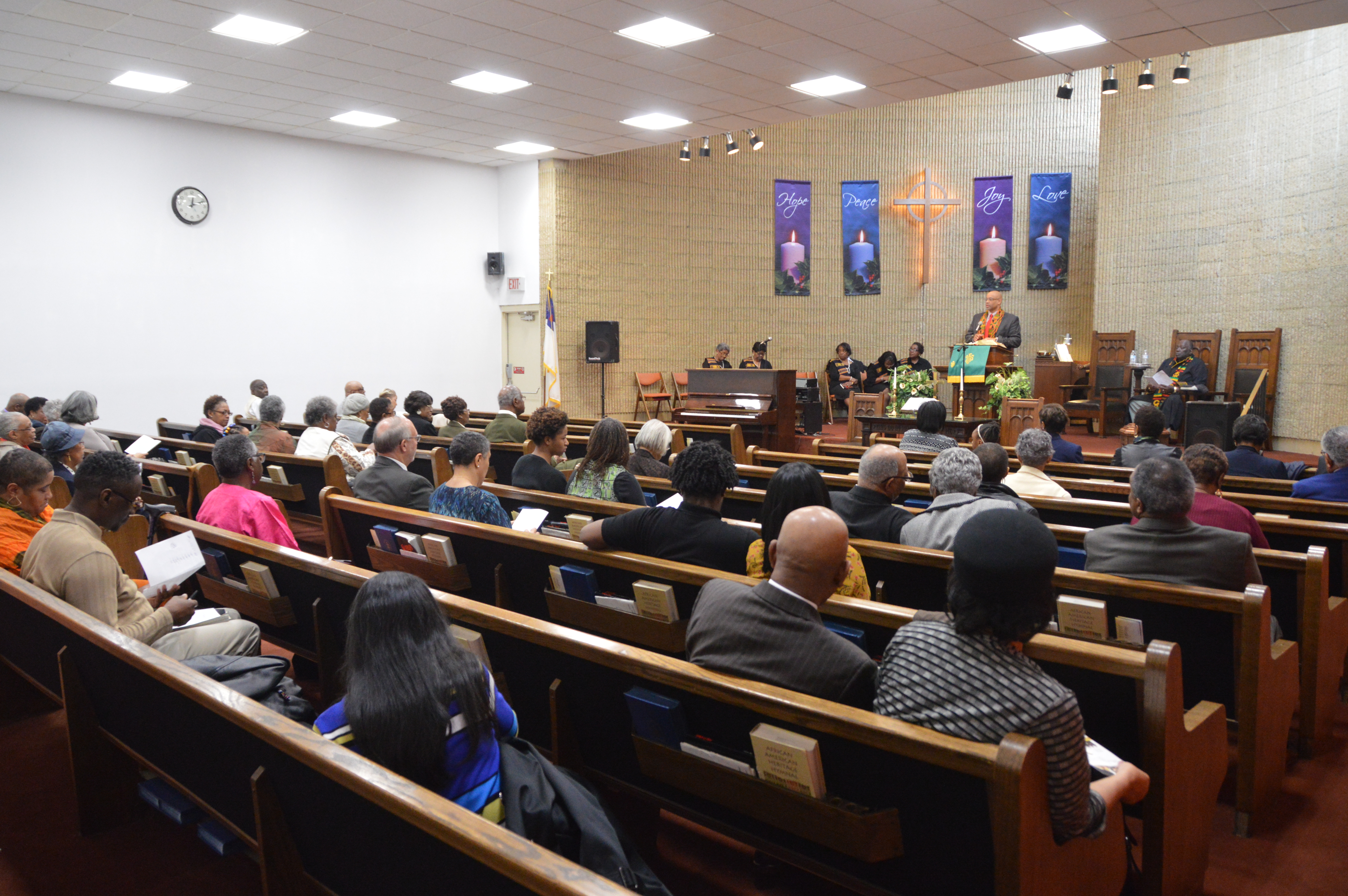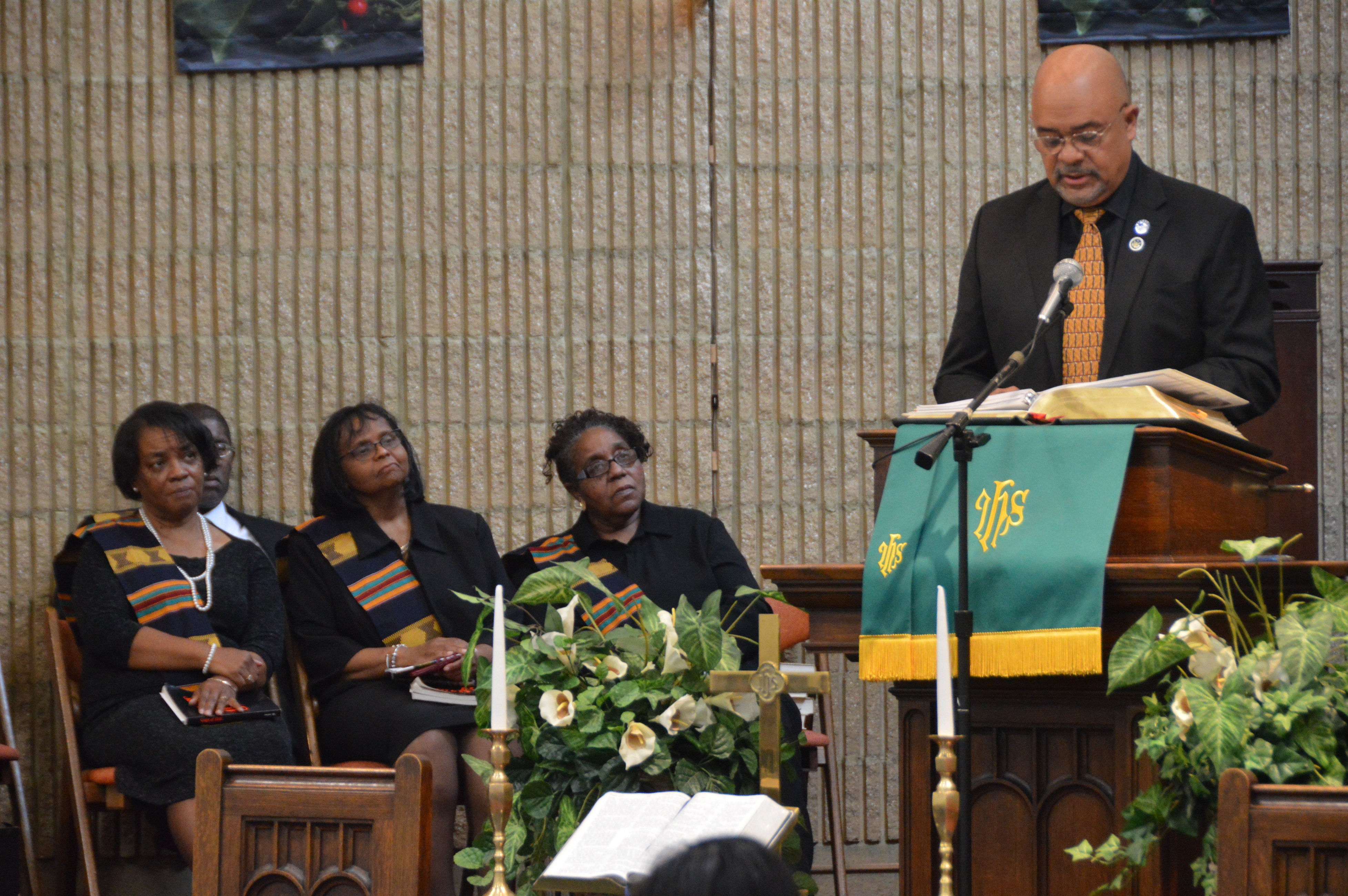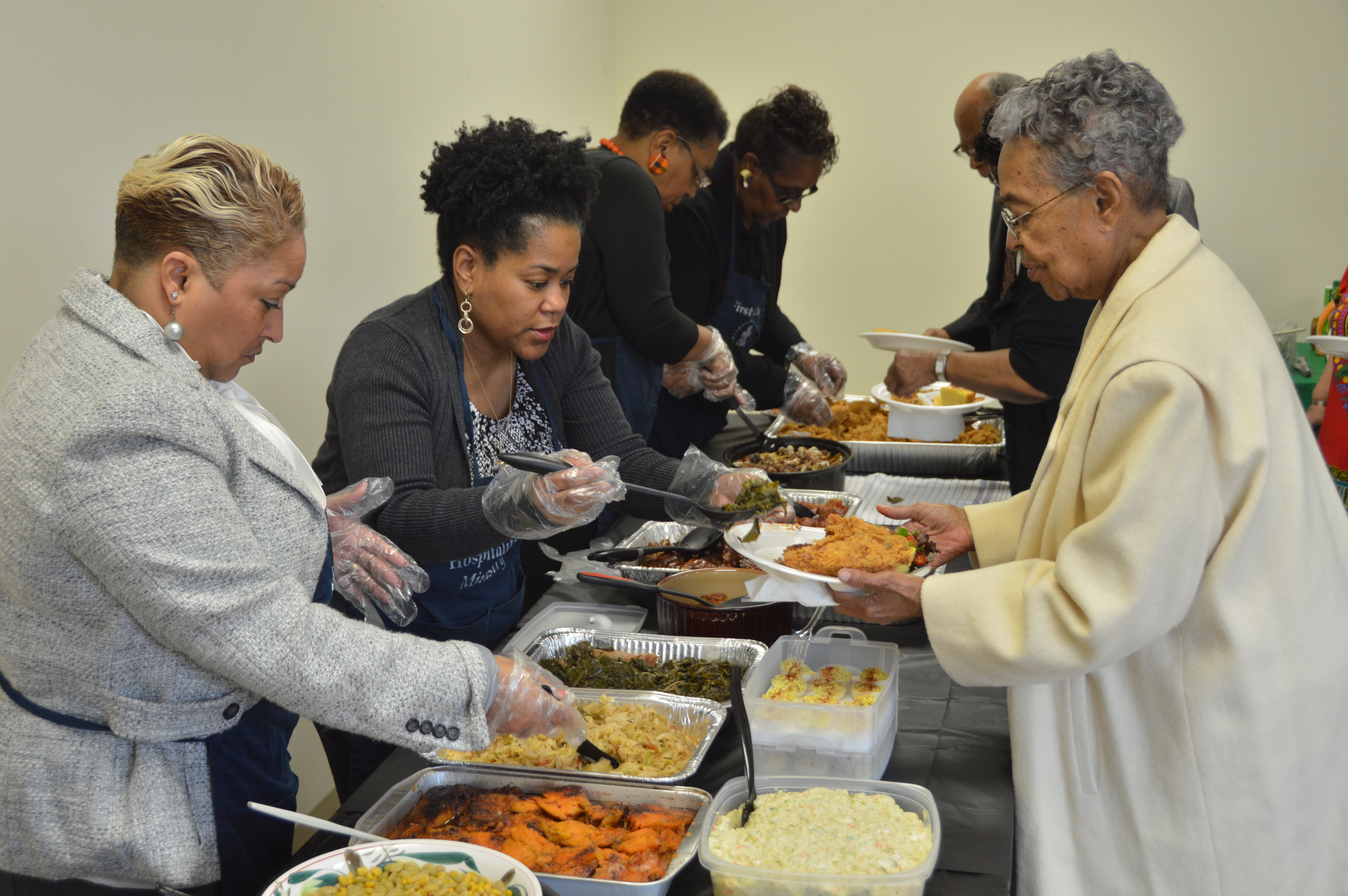 Jersey Sunday

Sunday, February 4, 2018 is Super Bowl Sunday.
Come worship with us at 11:00am before the "Big Game" and wear the jersey of your favorite team! Here are a few congregants representing their favorite teams!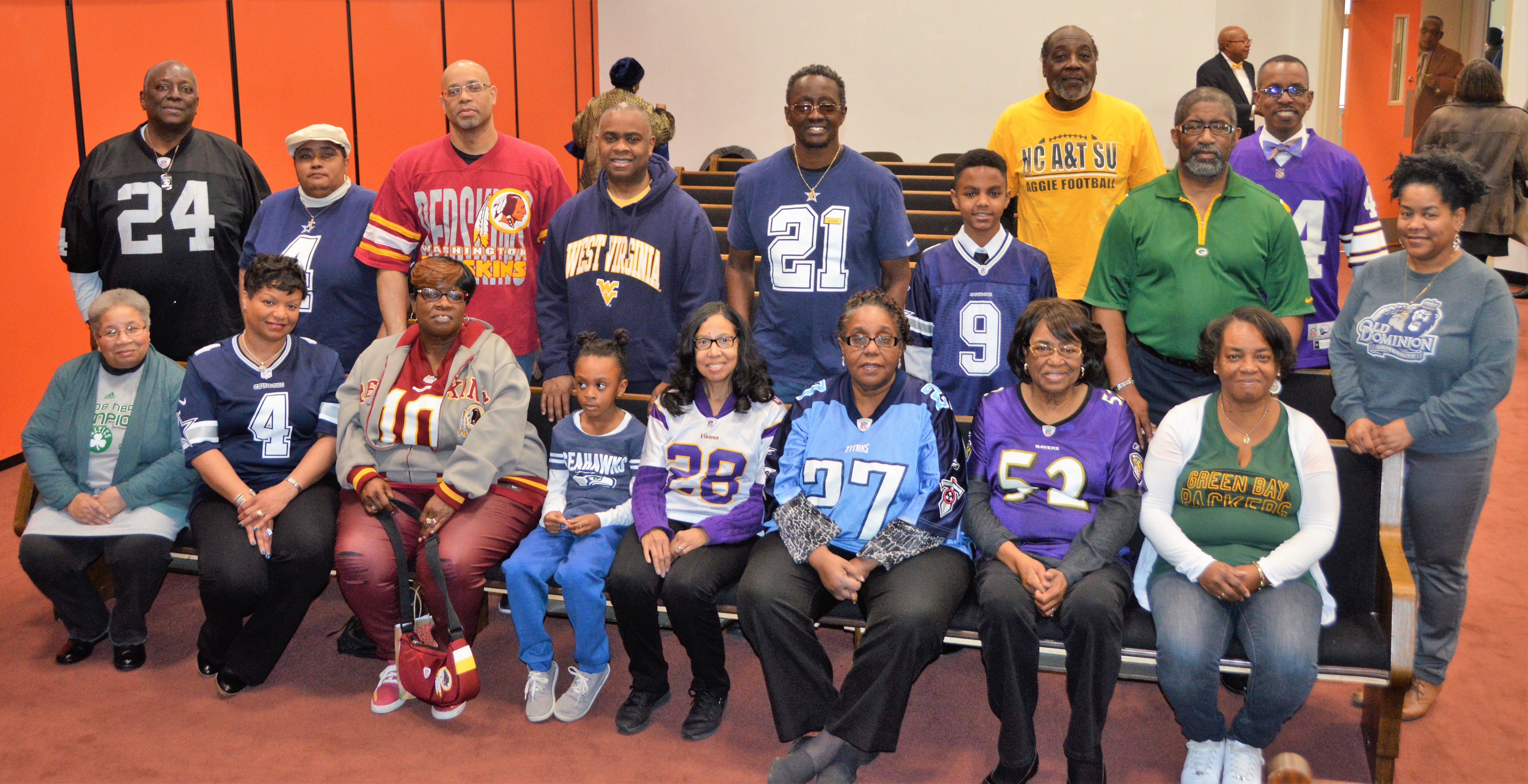 Welcome, our newest member...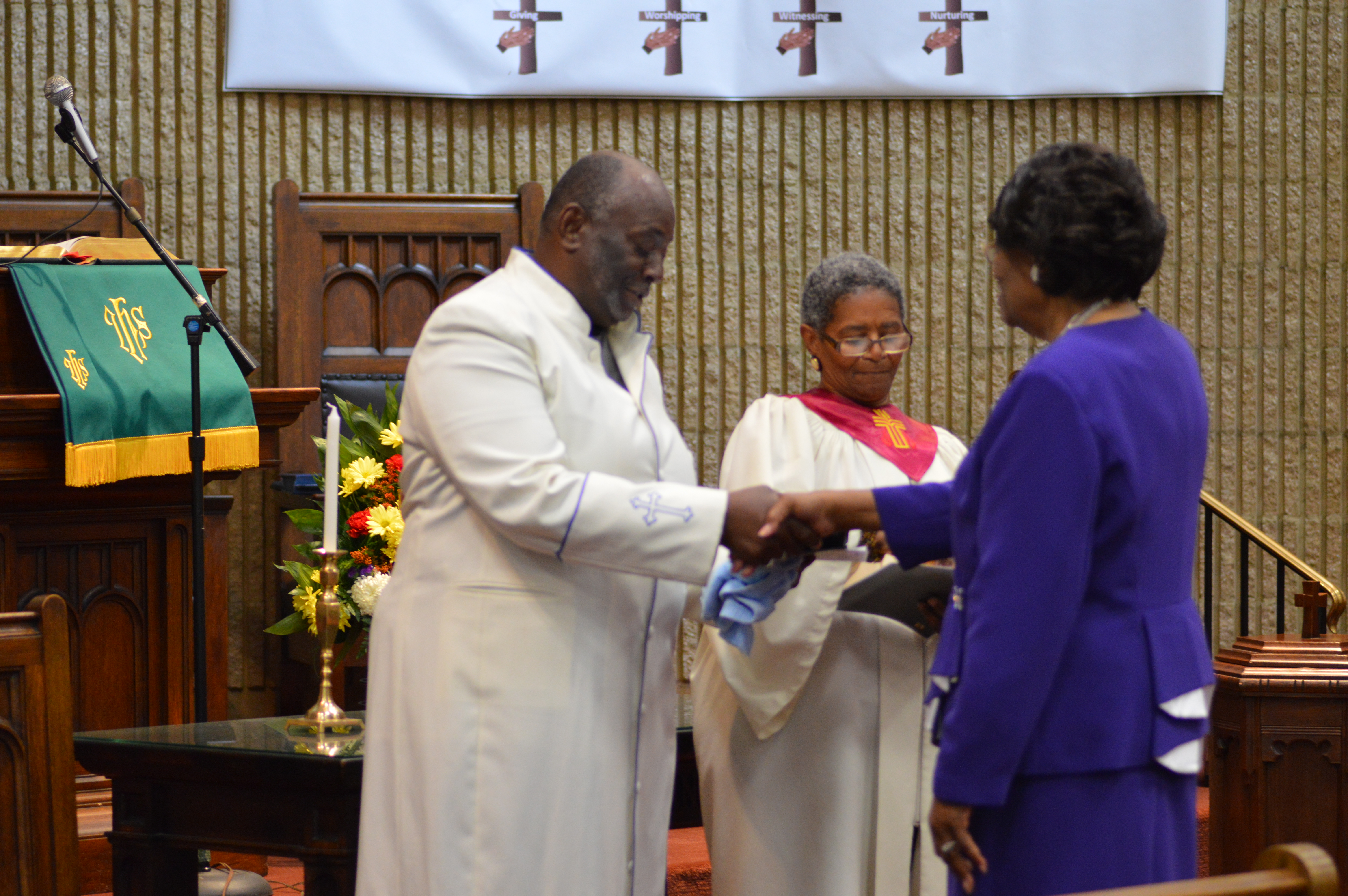 November 5, 2017
Vacation Bible School
starts Monday, July 31st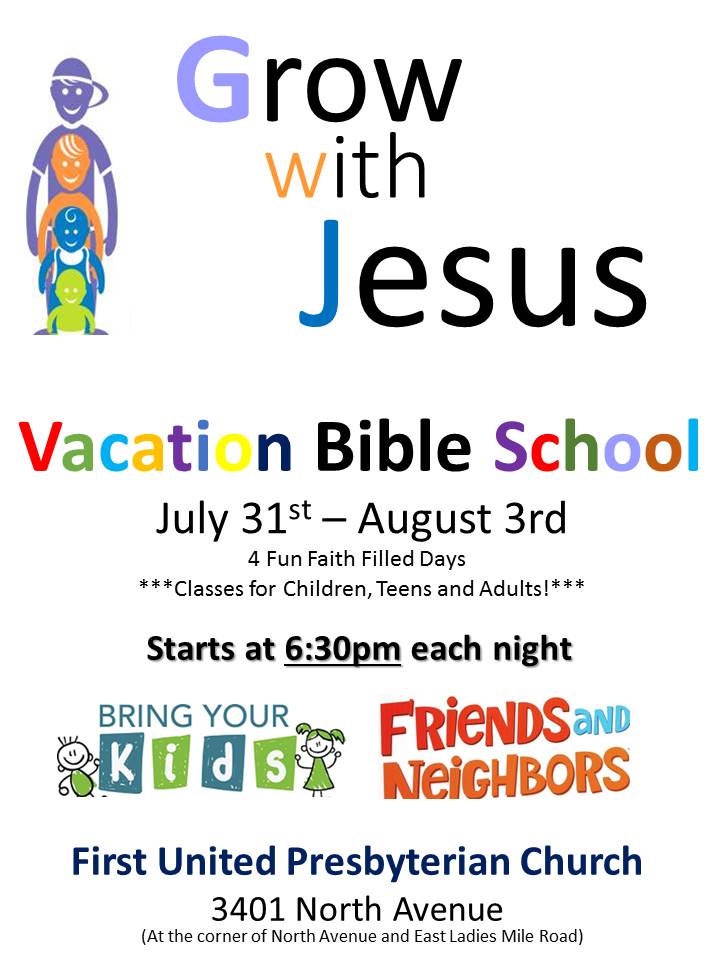 Men's/Father's Day 2017
Can you figure out the scripture that is spelled out in emojis at the bottom of the cake?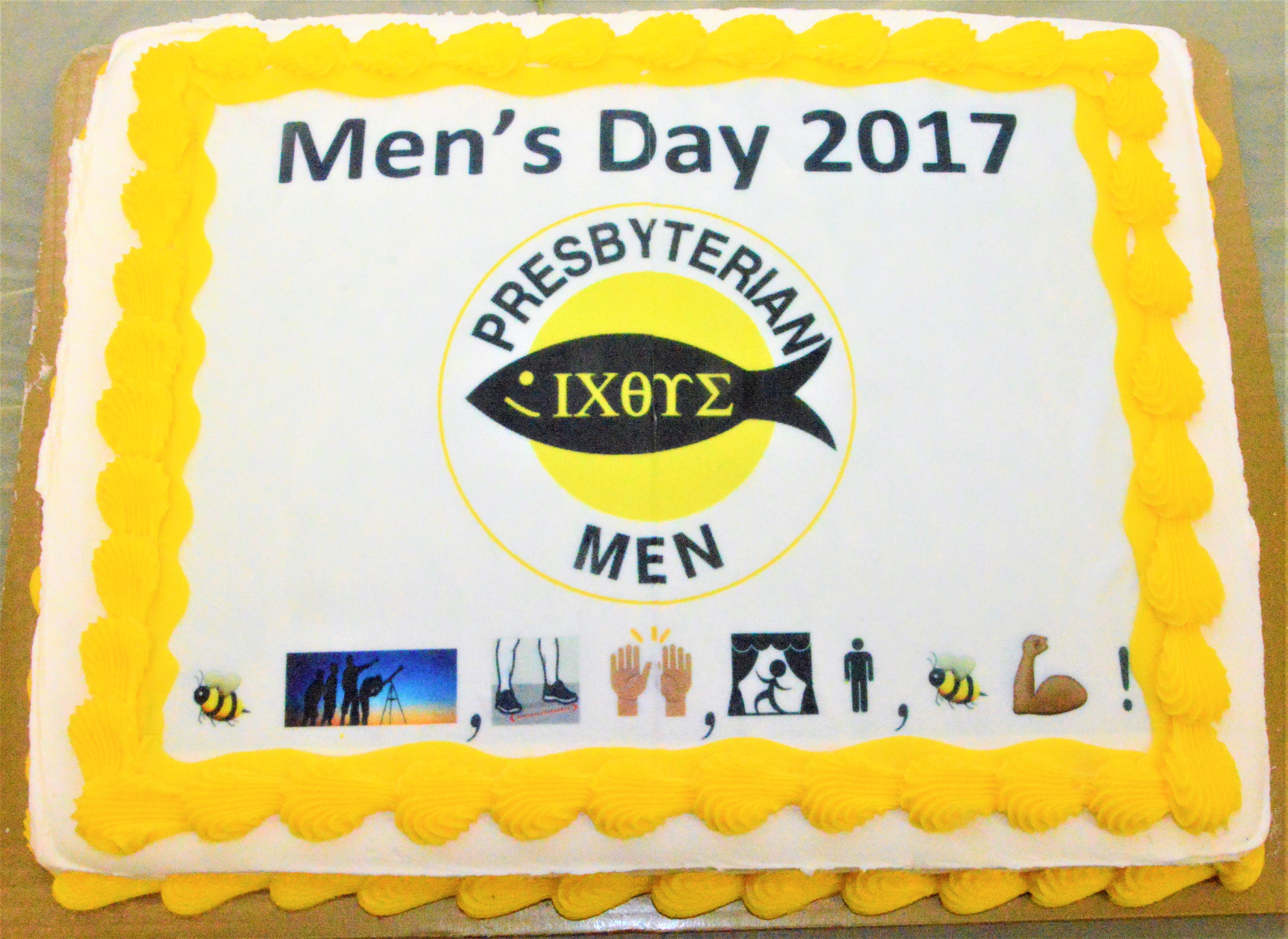 Daughters of Imani Grand Year End Celebration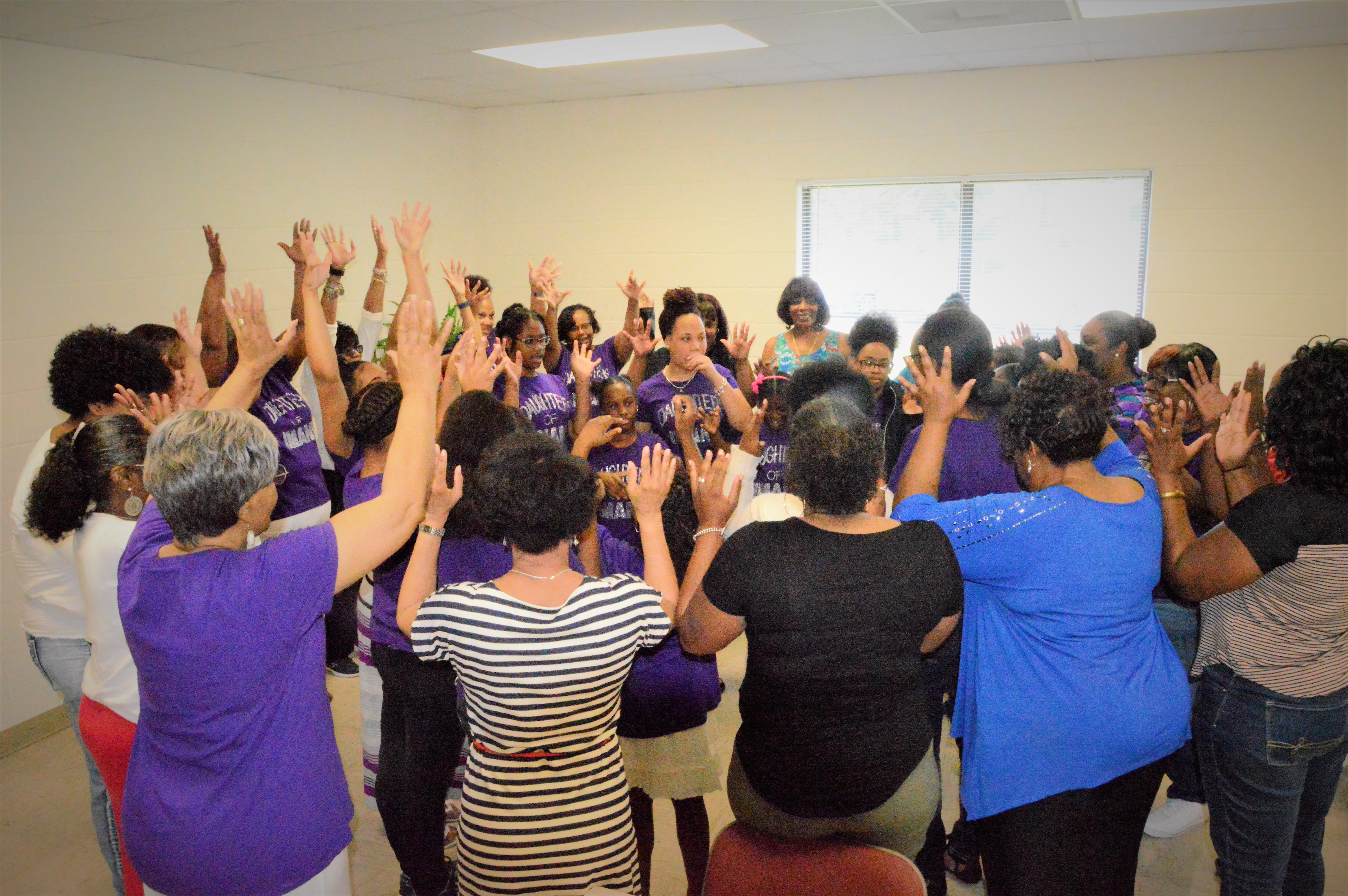 Saturday, June 3, 2017 the Daughters of Imani ministry held its school year end celebration. Parents, mentors and supporters of the ministry gathered at First United to celebrate the young ladies accomplishments and experiences during the 2017 school year! Two of the Daughters, Mikyah Henderson and Rebecca Harris, will be graduating high school and attending Norfolk State University in the fall. Praise God for the impact of this ministry!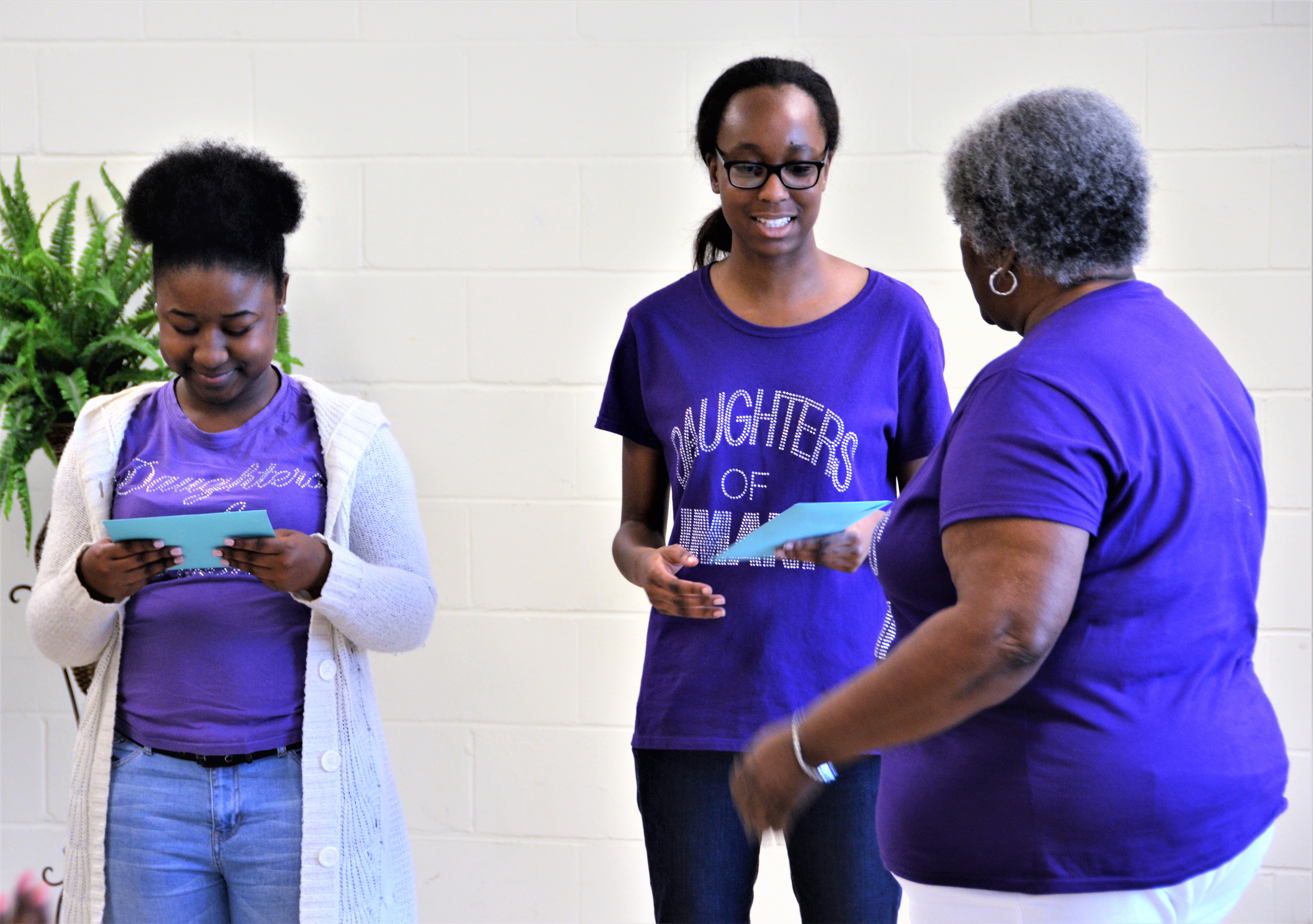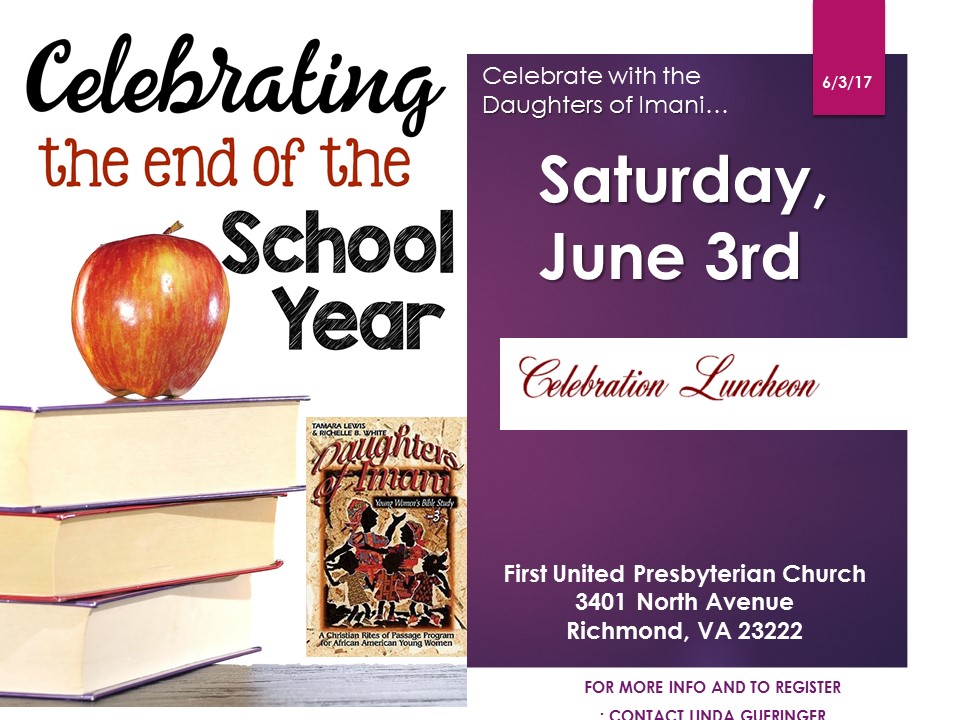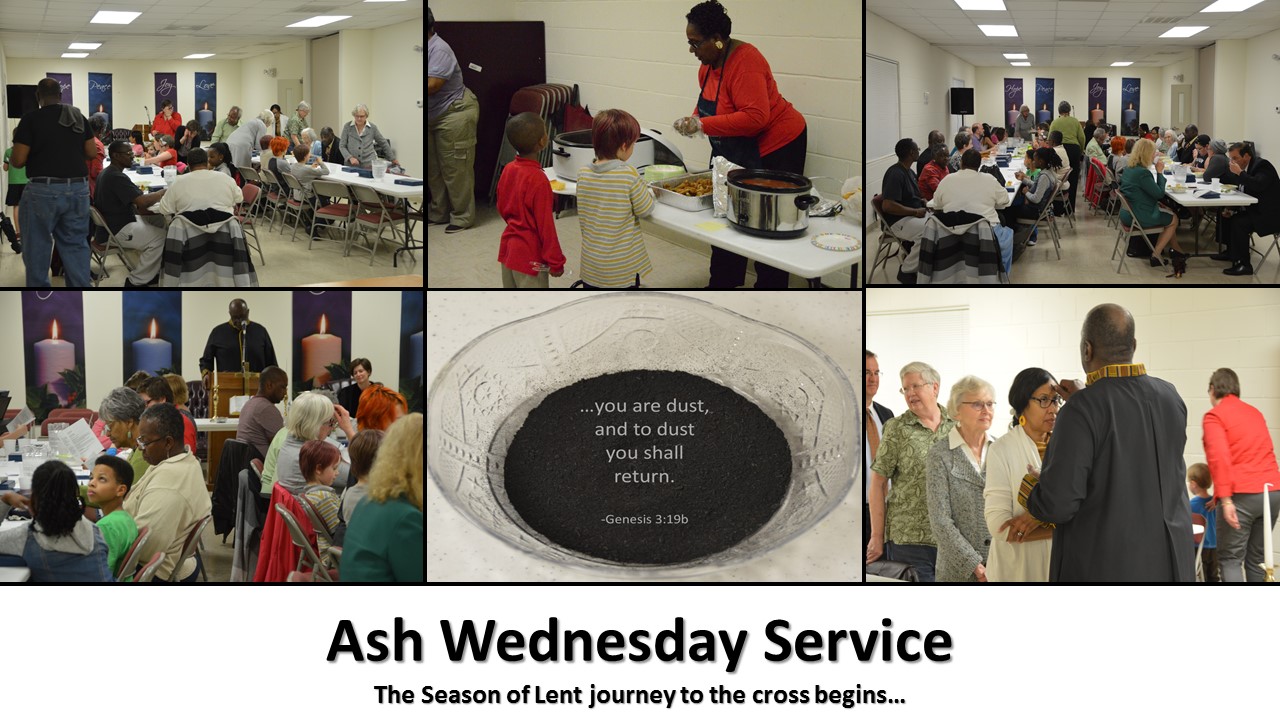 The Season of Lent begins March 1st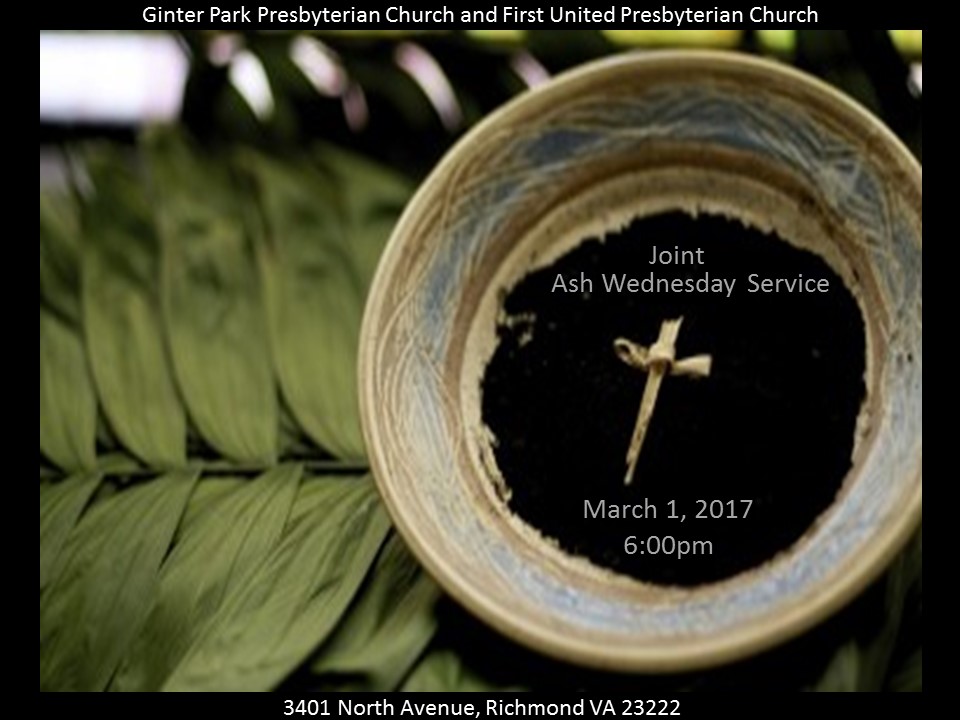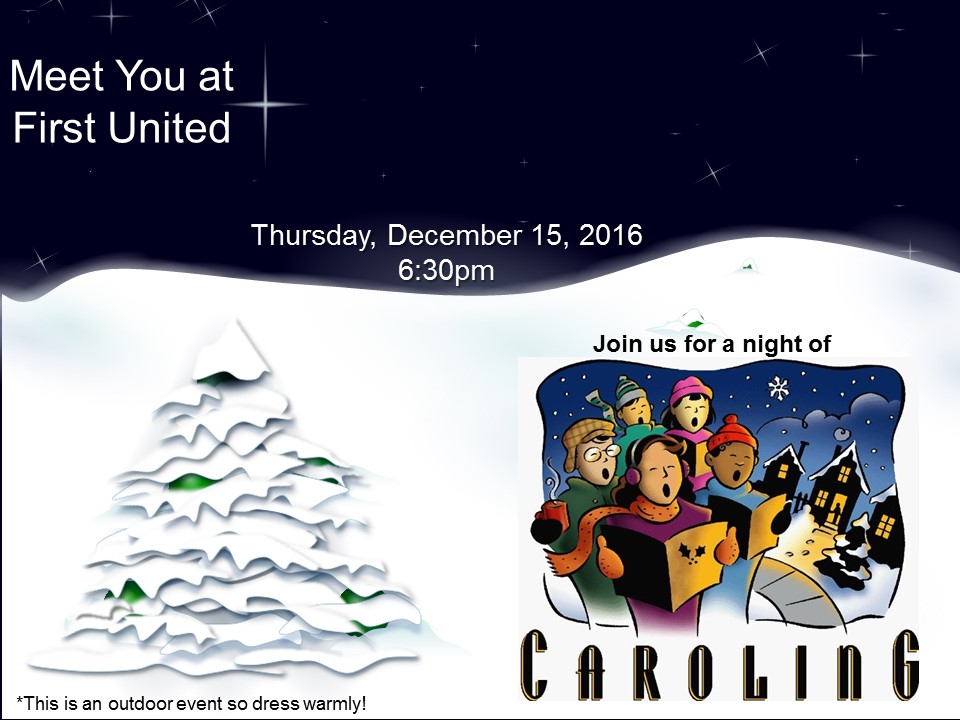 First Sunday in Advent
Sunday, November 27, 2016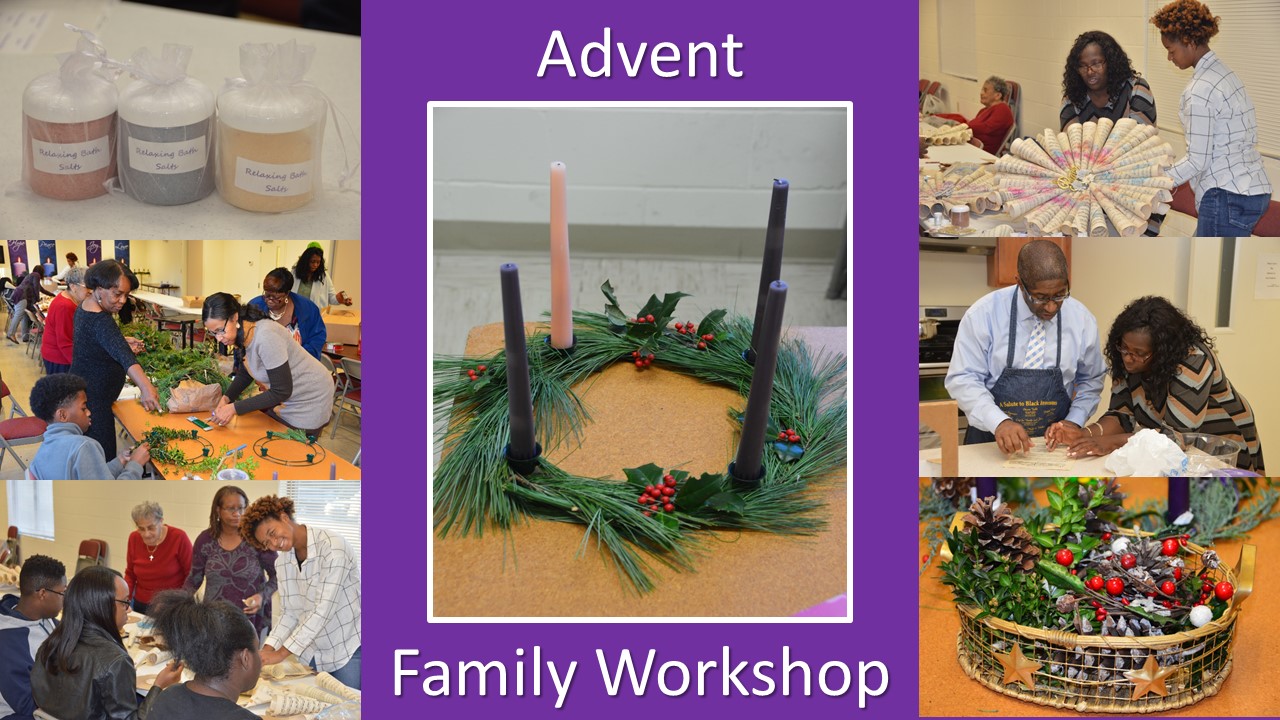 Tuesday, November 8, 2016
First United Photo Directory is in the works!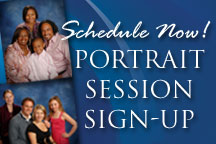 The link below is especially for First United and friends to use to access the online scheduling system for portraits. Portraits will be taken on February 13th and 14th. Family and friends are invited. No purchase obligation. If you have questions, contact Nina Austin, Carla Durr or Gwen Lewis.

https://www.securedata-trans14.com/ap/firstunitedpresbyterianchurch/index.php?page=10

Carol Ormond retires as church organist
Sunday, December 28, 2014.....Carol Ormond, who served as church organist at First United for 24 years, has retired. The music ministry and congregation of First United wish Carol all the happiest that retirement brings and we look forward to seeing her in worship service!
Sunday School Christmas Breakfast
December 21, 2014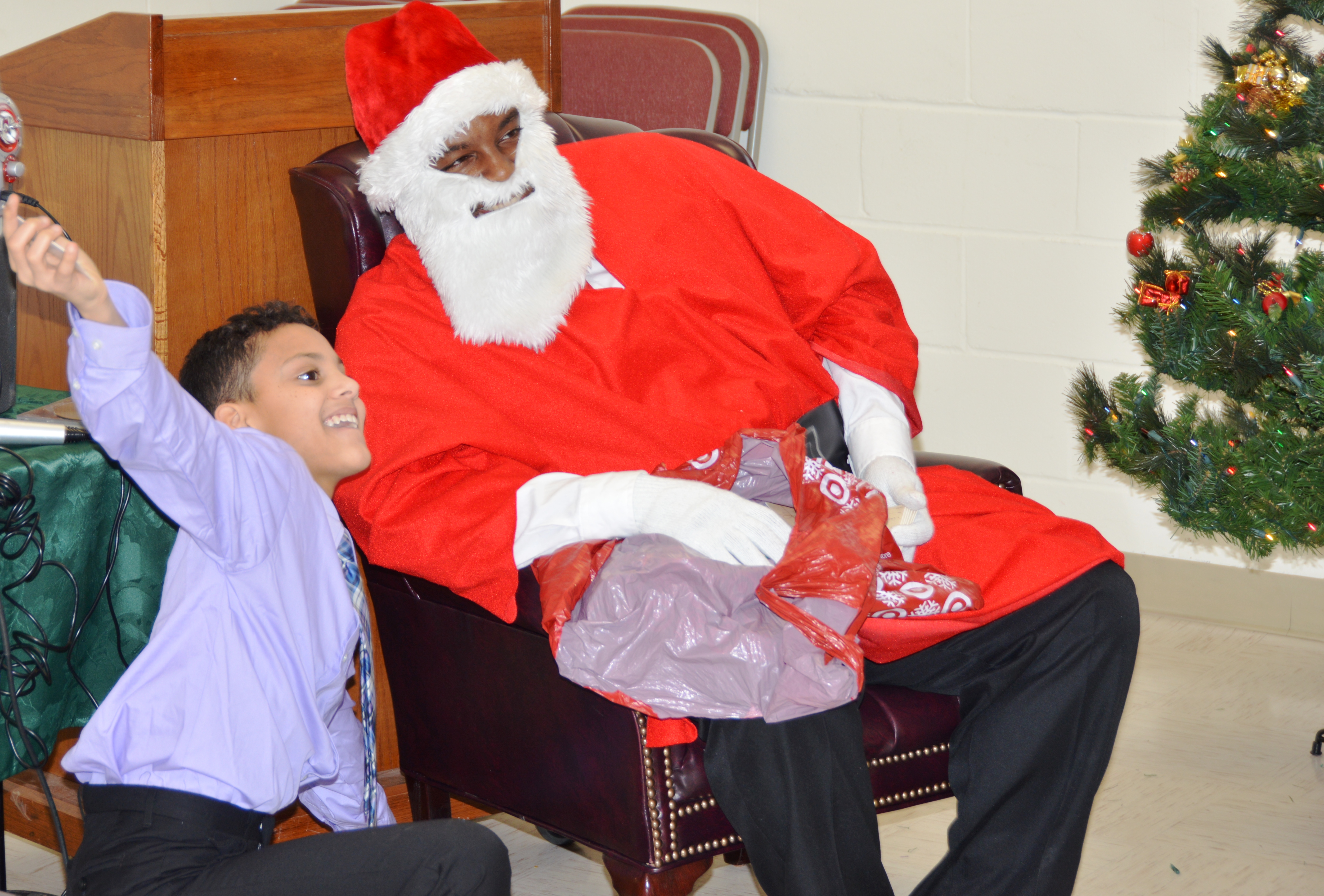 The annual Concerned Northside Churches (CNC) Adult Home Christmas Party is scheduled for Tuesday, December 9, 2014! The party will take place at Battery Park Christian Church.
(the corner of Bellevue and Chamberlayne)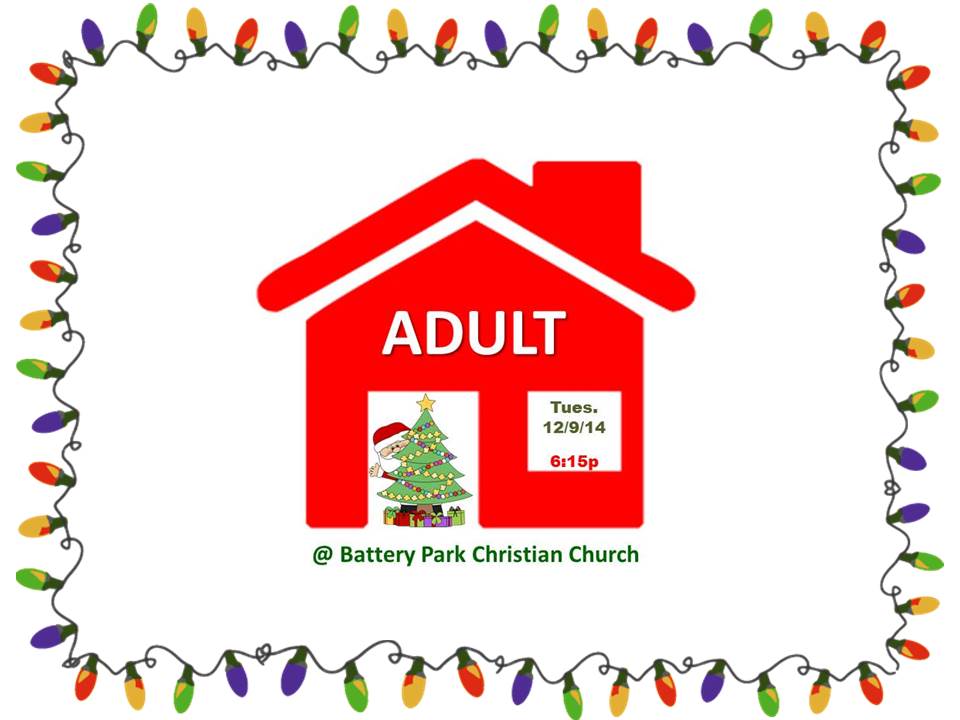 Here are a few pics from the party!

The Tacky Lights Christmas Tour sponsored by the Deacon Board is SOLD OUT!
Presbyterian Women Fall Bake Sale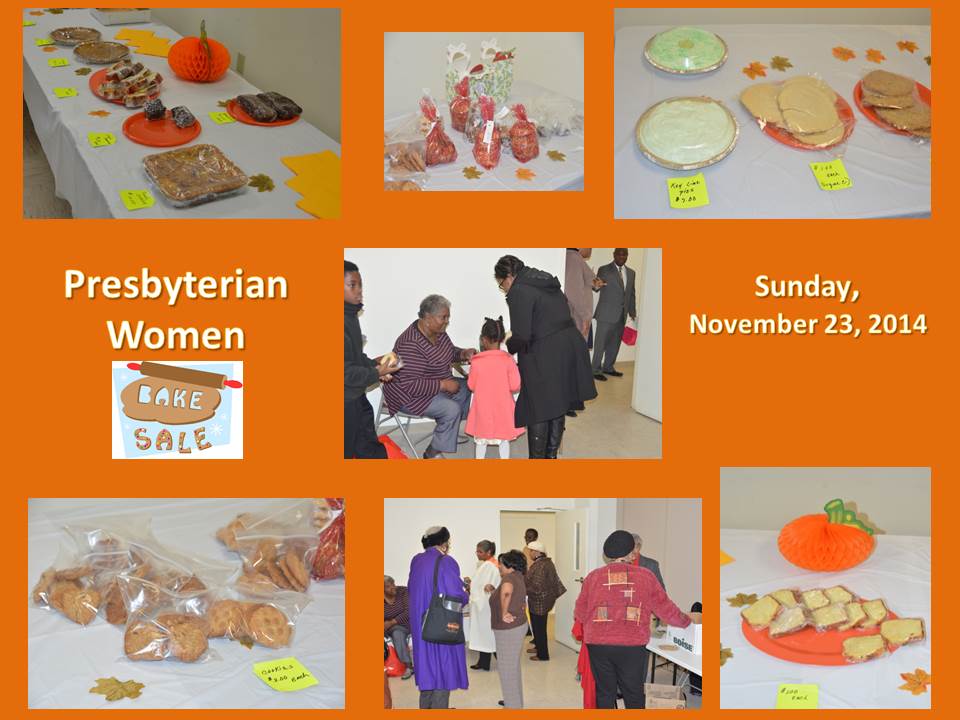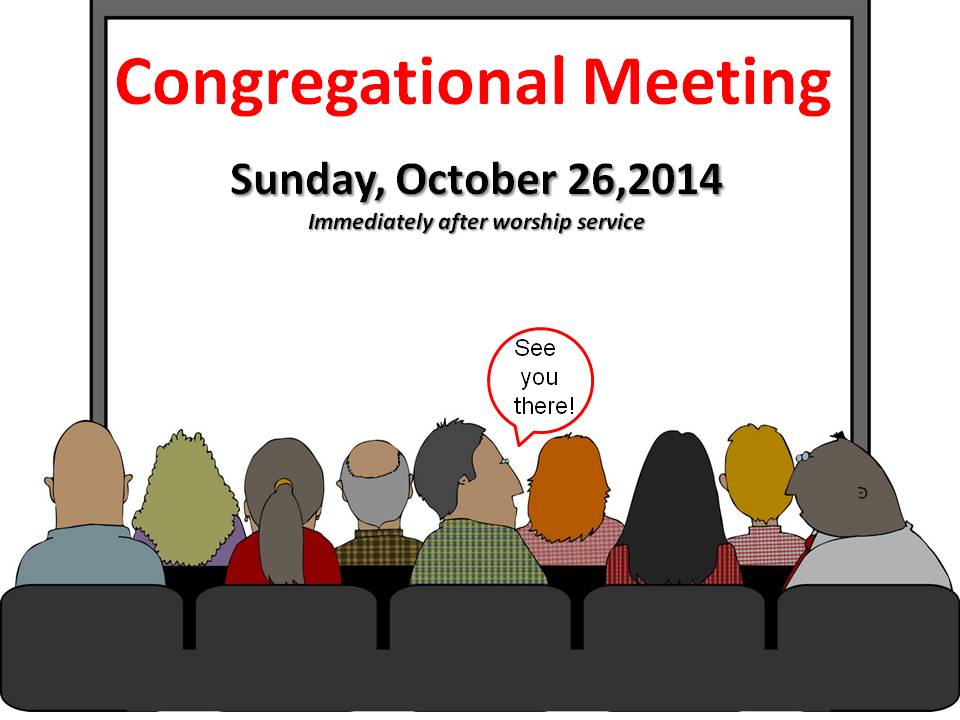 REVIVAL begins at First United!
Tuesday, October 7, 2014....Fall Revival got off to a rousing start thanks to the Word from the Lord brought by Reverend Larry Johnson, associate minister at Good Shepherd Baptist Church along with the Good Shepherd Men's Choir!
Gift for Life Walk
Saturday, October 4, 2014....Members of Sister's Network joined with members of First United Presbyterian Church to walk through the neighborhood in North Richmond spreading awareness to issues of breast health and breast cancer.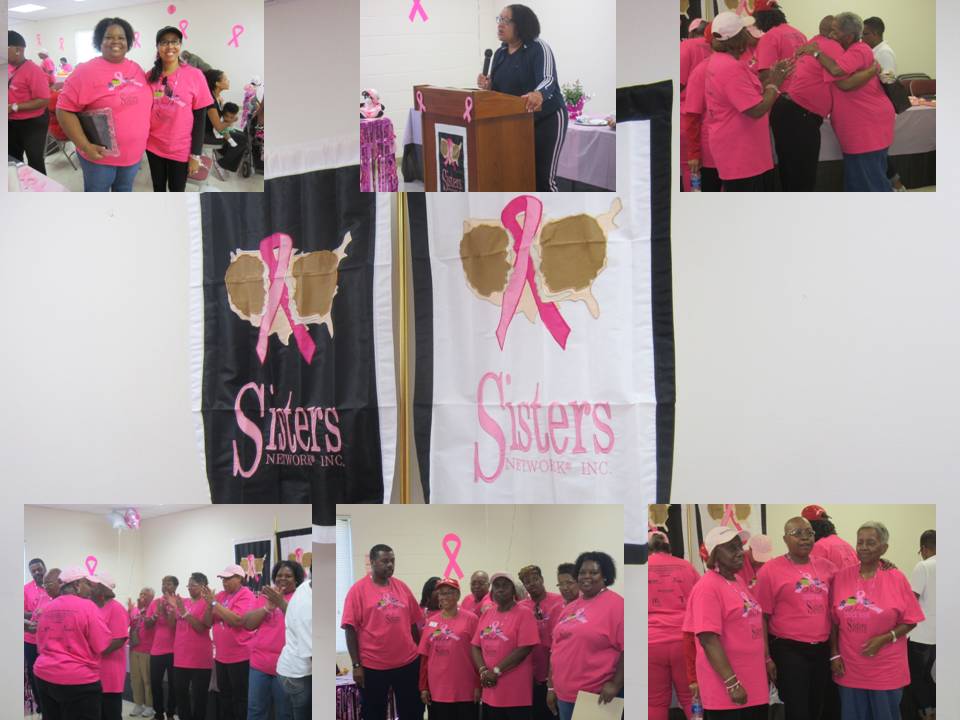 Homecoming and Revival Services
October 5-9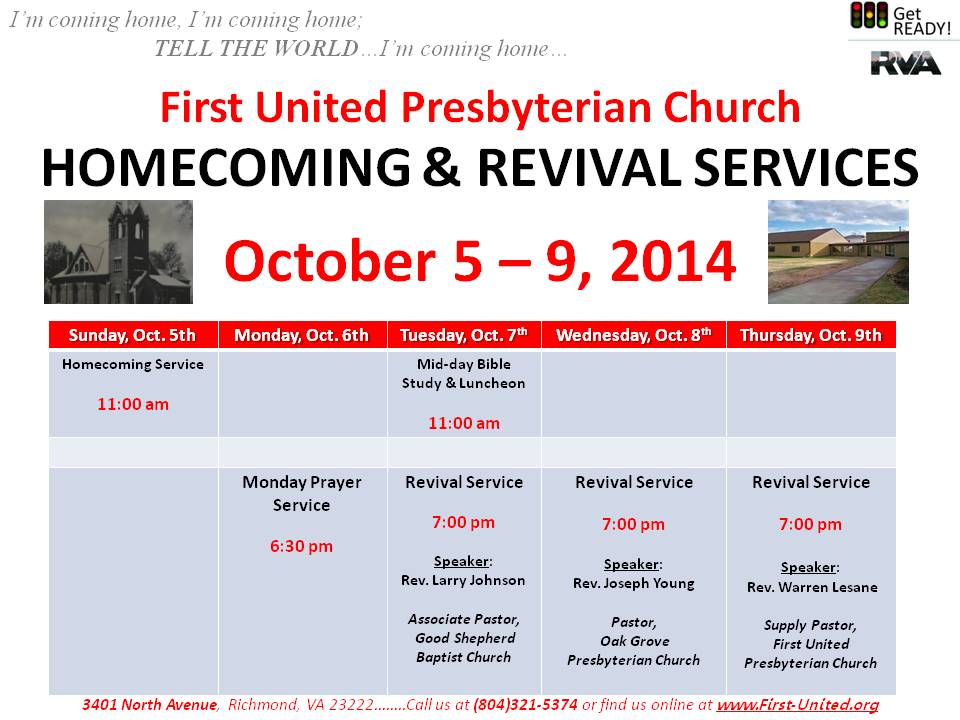 Please note date change!
Vacation Bible School starts on
Tuesday, July 22, 2014
Celebrating the retirement of
Reverend Dr. Willie Woodson
On Friday, June 27, 2014, family and friends of First United gathered at the Westwood Club for the retirement banquet of our pastor, Rev. Dr. Willie Woodson. Pastor Woodson has shepherded the congregation at First United for 29 years! Pastor Woodson preached his final sermon, as pastor, on Sunday, June 29th in front of a full house of congregants and well wishers. Afterwards, the congregation surprised Pastor Woodson with a cookout on the church lawn. What a whirlwind weekend of celebration...praise be to God for all that was said and done!
~June 15, 2014~
Father's Day/Men's Day at First United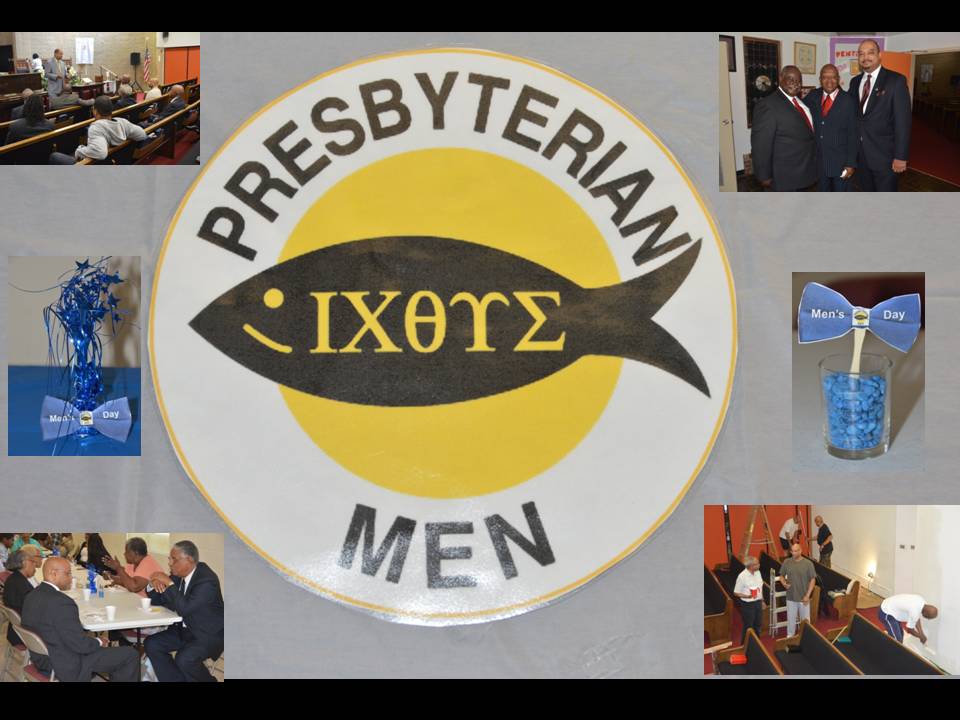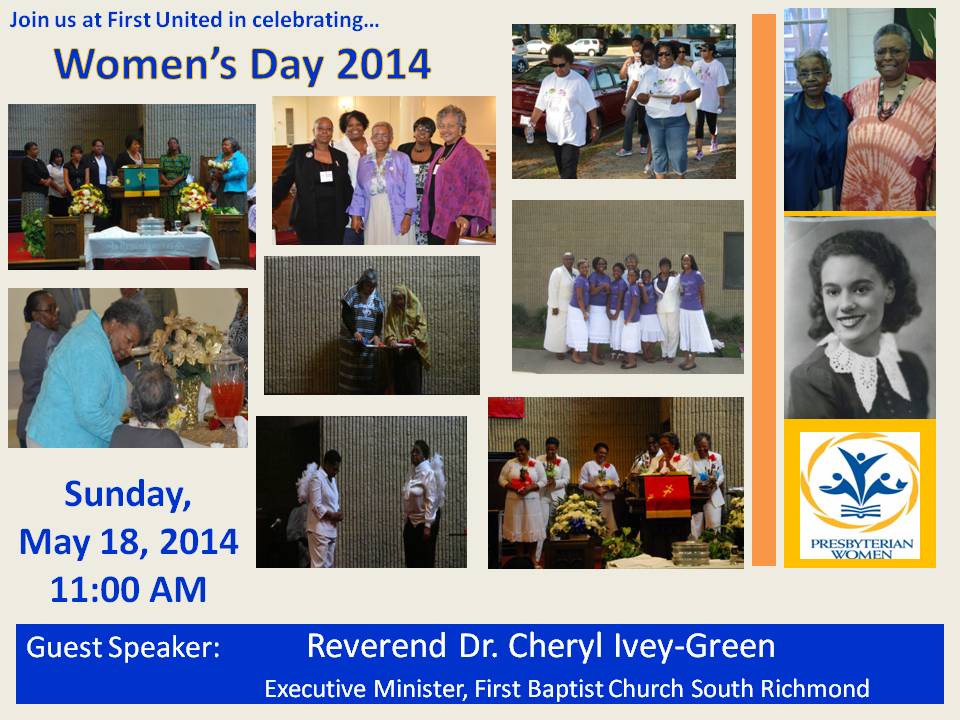 Family Rally and Family/Friends Day
Richmond, VA...Members and friends of First United celebrated Family Rally Sunday with a family and friends worship service and fellowship gathering. Each family unit team chose the color of their choice to sport proudly during the celebration. Here are few pics from the celebration: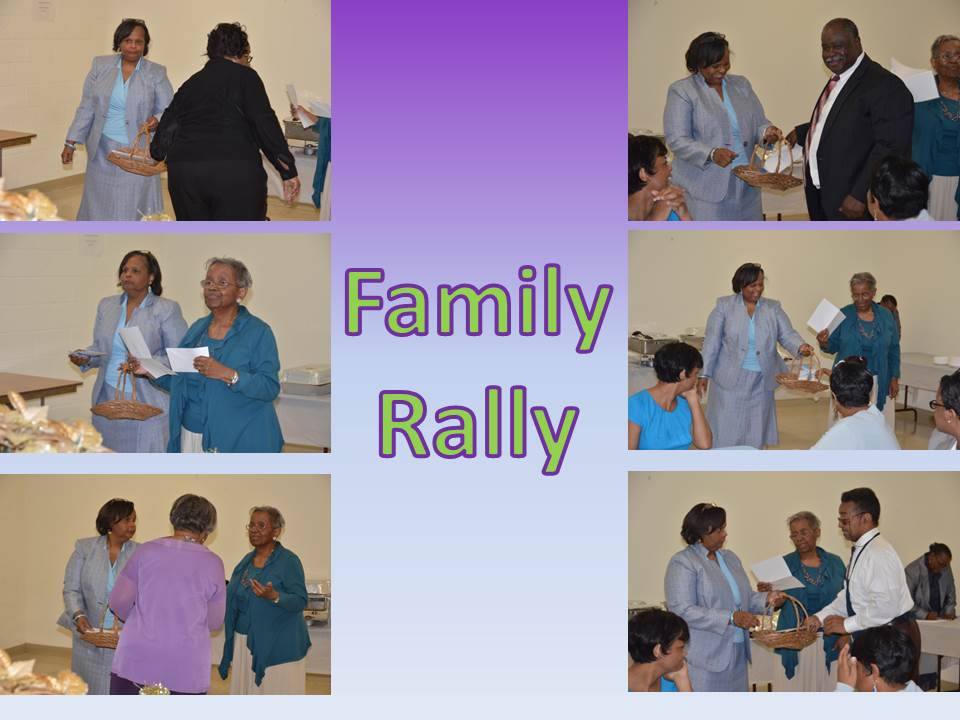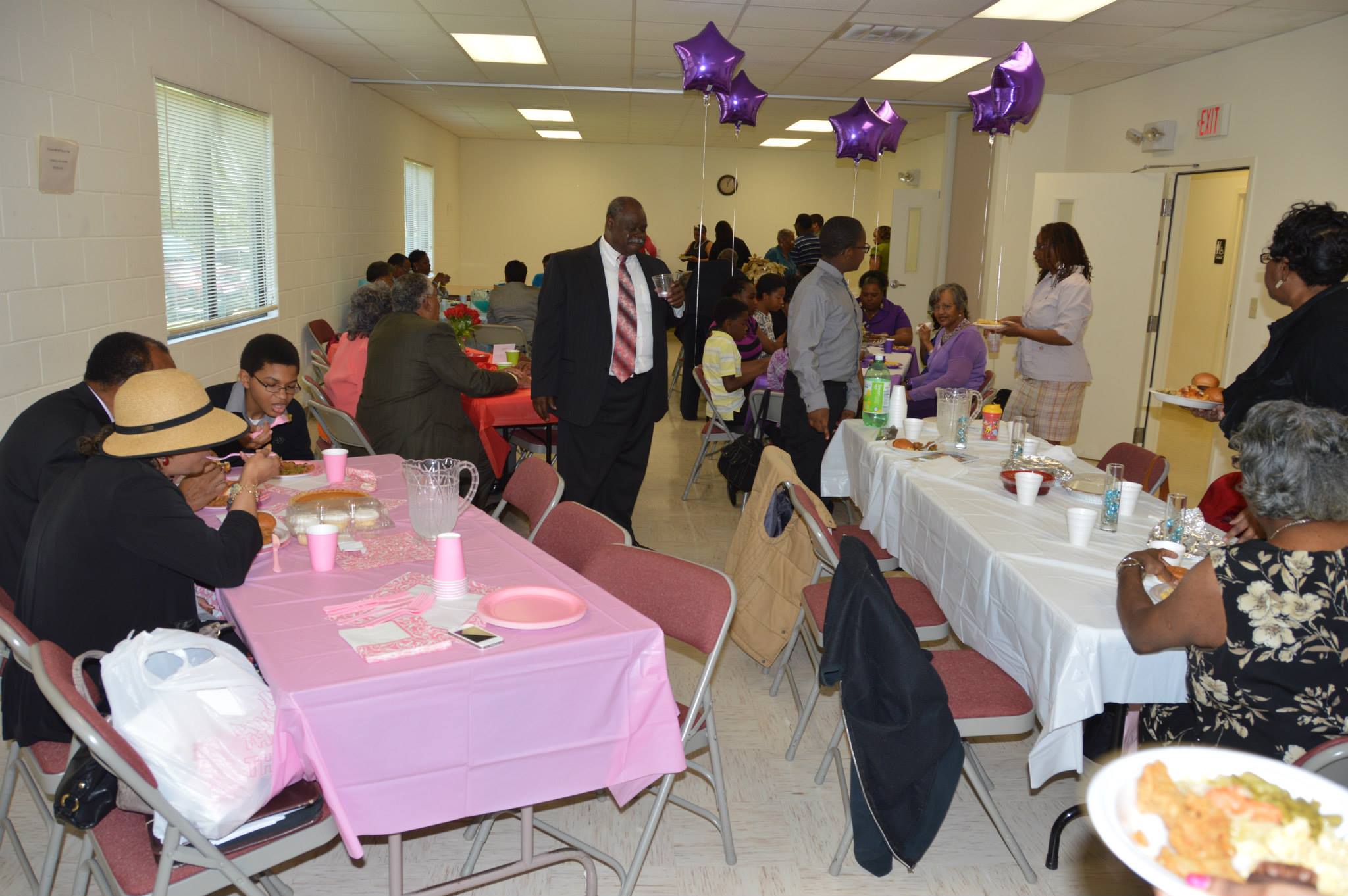 Reverend Warren Lesane to speak during
our 124th Church Anniversary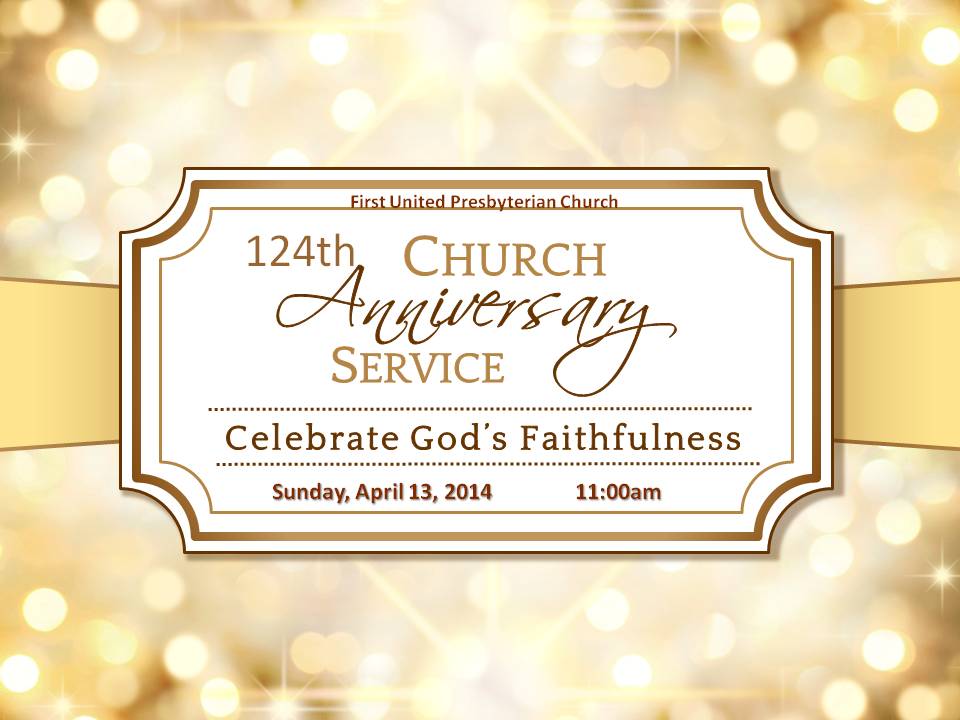 First United travels to Carver Memorial
for its Spring Revival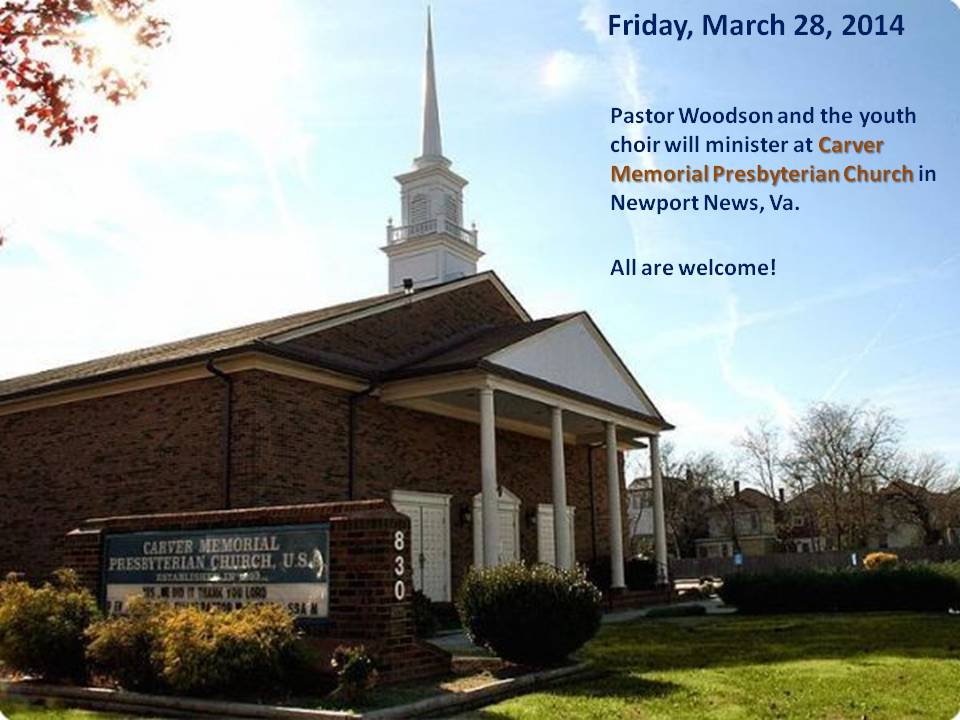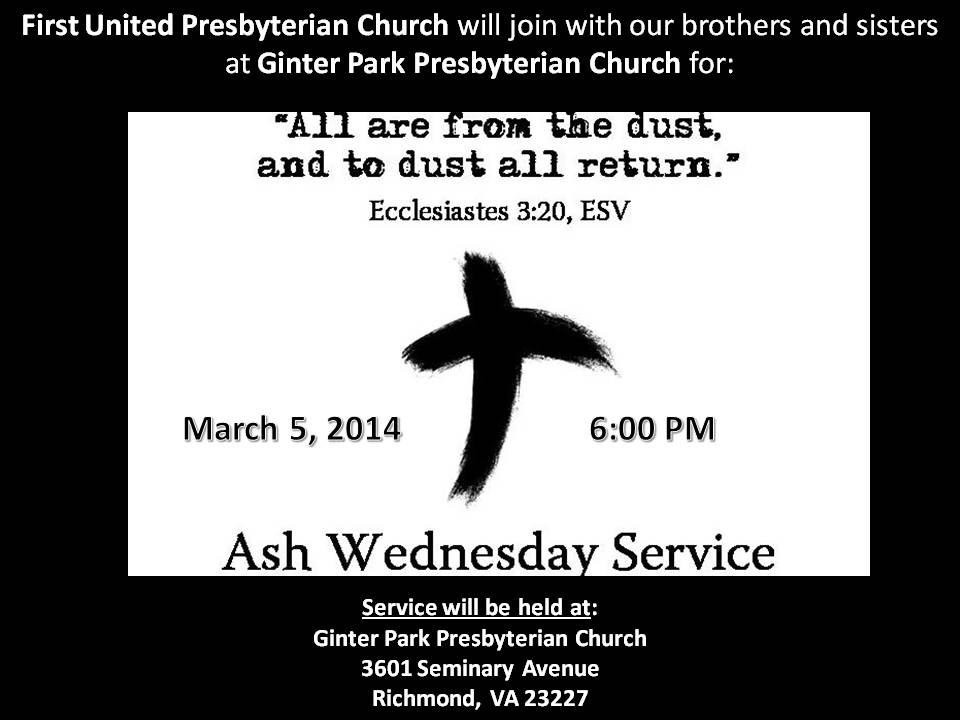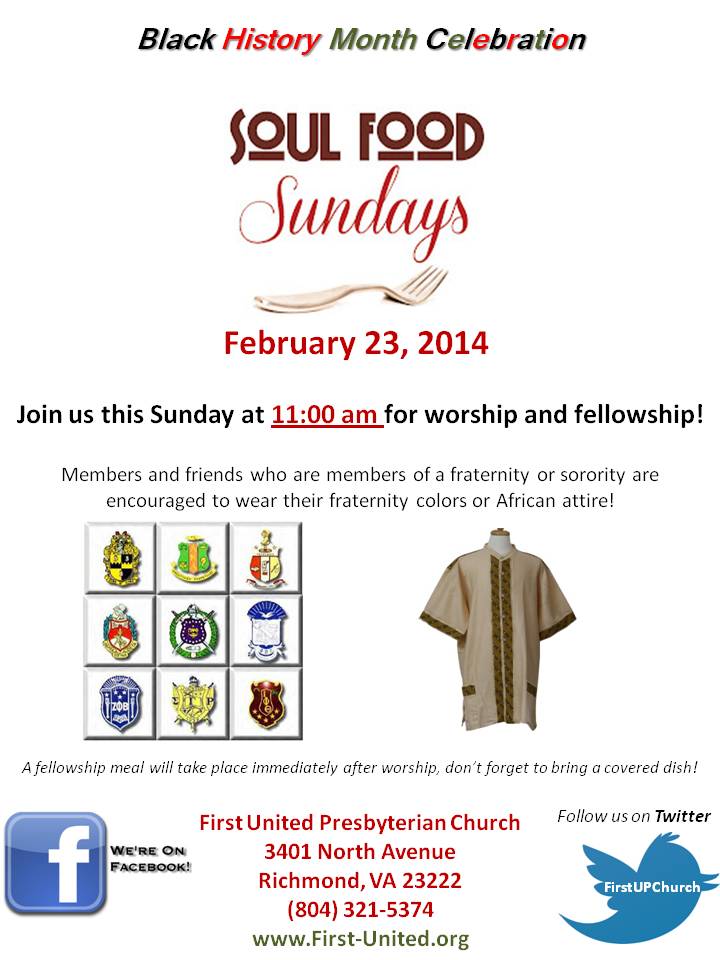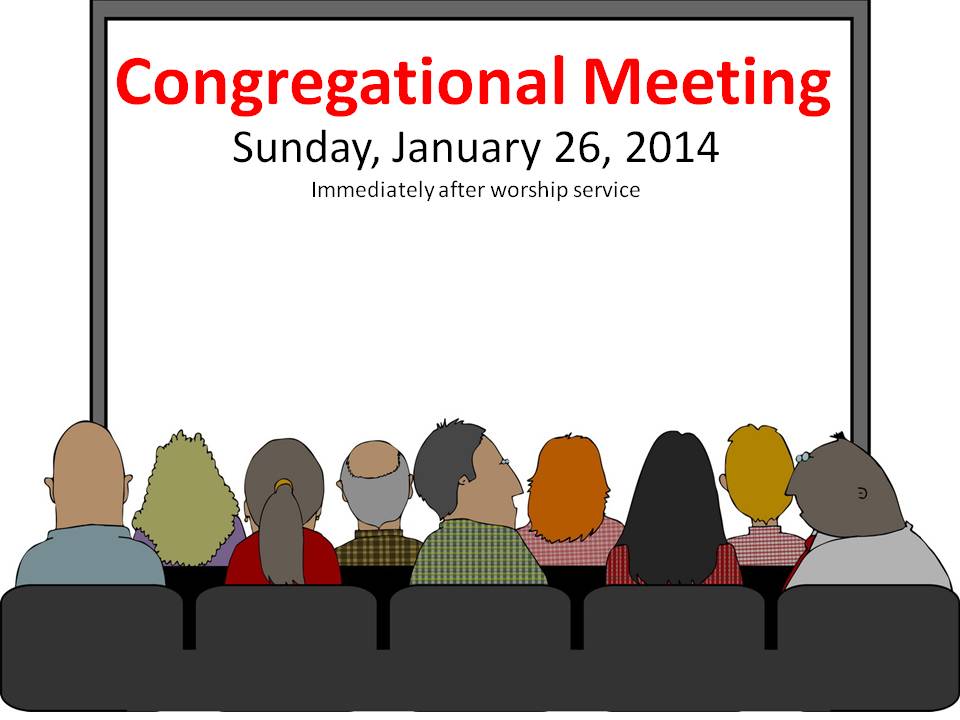 Food Pantry donations needed!
Time to Fill the Boat!